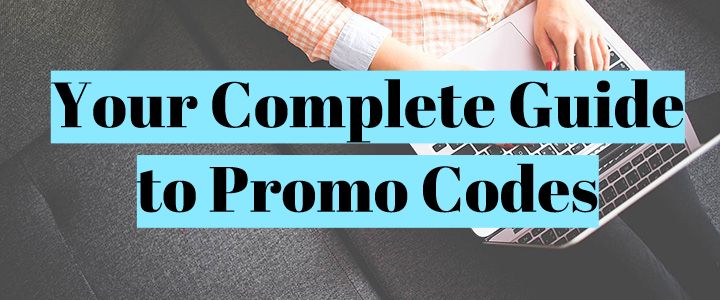 Your Complete Guide to Promo Codes
by couponlab
Using a Promo Code is not always as simple as "enter code, receive discount". Certain restrictions may apply making the code void. Or, maybe the code has expired and is no longer valid. ECommerce stores produce many different types of promo codes and it's a good idea to know how to distinguish between them. Below you will find a guide to help you recognize and use the different types of promo codes available to you.
Sitewide Promo Codes
Sitewide promo codes are the cream of the crop. These type of codes work across the entire website, not just for one item or category.
Inside Tip
A Sitewide promo code can sometimes include a list of exclusions, often for popular name brands that most shoppers want to use the code for.
Amount Off Promo Codes
These are the promo codes you see for an exact dollar amount off. These codes usually have a minimum purchase requirement like "$20 off $100 or more".
Inside Tip
Codes with a minimum requirement often don't include sales tax or shipping, meaning you will have to meet the requirement before these additional fees are applied.
Free Shipping Promo Codes
You guessed it, these codes will give you free shipping on your purchase. They are very popular among retailers, and often feature low minimum purchase requirement.
Inside Tip
Read the fine print. Free shipping codes usually only apply to the contiguous United States – meaning territories and states like Hawaii and Alaska are unable to receive free shipping with the use of that code.
BOGO Promo Codes
BOGO (buy one, get one free) codes are another popular form of promo code. This type of code can provide a solid discount if your looking to purchase more than one of the same item.
Inside Tip
It's very rare that you can combine BOGO promo codes with other available codes or discounts. In this situation you need to determine which is the better deal. Unless you are stocking up or need 2 of the same item, it's often better to use the discount code option over the BOGO code option.
Freebie Promo Codes
You can't beat getting a free item at checkout. These types of discount codes come in the form of a gift with purchase of a specific item. Some stores will even offer an unconditional freebie just for shopping with them.
Inside Tip
Free isn't always free, unfortunately. Often these codes come with a minimum purchase requirement, and almost always will still charge you shipping.
Sale/Clearance/Outlet Only Promo Codes
Sale, clearance, or outlet only codes are excellent for those looking for the deepest discount. When retailers want to get rid of their clearance stock they will issue these codes. Often times you can find these when seasons change. When you apply these at checkout, be sure to remember they will not provide a discount on regularly priced items.
Inside Tip
There is a reason stores offer such huge discounts on their sale, clearance, or outlet items. Don't expect to find the latest product models or fashion trends in these sales.
One-Time Use Promo Codes
One-time use codes mean the code can only be redeemed once per customer. These are usually sent directly to you via email.. If you have ever received a special code meant only for you (on your birthday for example), it is most likely a one-time use promo code.
Inside Tip
As the name says, you can only use the code once. Be greedy with these, we all love sharing a good deal with a friend but if they use it before you, you'll be out of luck!
Members-Only Promo Codes
If you have a store-specific credit card you may already be familiar with this type of code. JCPenney is a great example of a store that utilizes these types of codes. These promo codes are sent out regularly to card-holders and often offer excellent discounts.
Inside Tip
If you find out about a card-holder only promo code and sign up for a card, you may not be eligible to receive or use the code immediately. Oftentimes, you must reach a certain level of membership before able to redeem the code.
Rewards Points Promo Codes
Kohl's loves to offer these type of promo codes. Instead of giving you a discount on an item, the store will issue you credit for a future purchase.
Inside Tip
Time limits often exist with these codes. Read the fine print, you may only have a short window in which these codes are applicable.