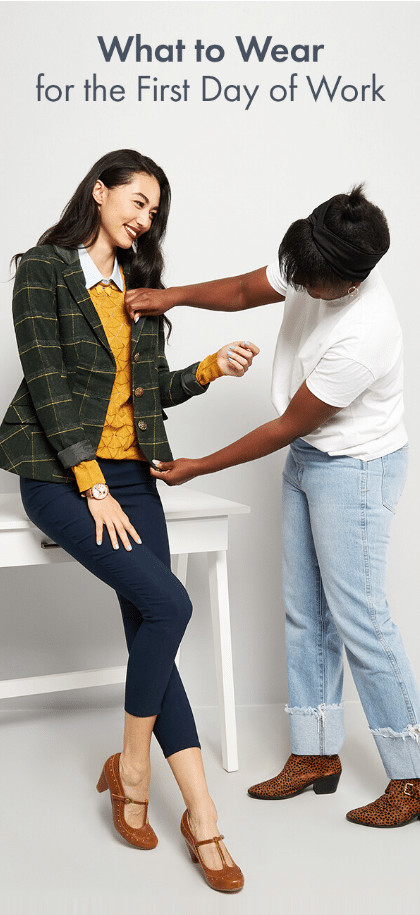 Tips for dressing in a work outfit that'll make you feel focused and fantastic
by couponlab
For some, "first day of work" means walking into the internship that'll kick off their career. For others, it's returning to the grind after a rad vacation. Whatever your situation, we suggest dressing in a work outfit that'll make you feel focused and fantastic. And since we know offices these days can look any number of ways, we asked stylist Domonique to suggest three ensembles ranging from business brilliant to creative chic. Scroll down to see her suggestions!
Dressing for work can be tricky! It's important to look professional, but not too stuffy. You want to feel comfortable and confident at the office without feeling like you're wearing a costume. Here are some tips on how to dress in order to rock your job every day.
Classic Cubicle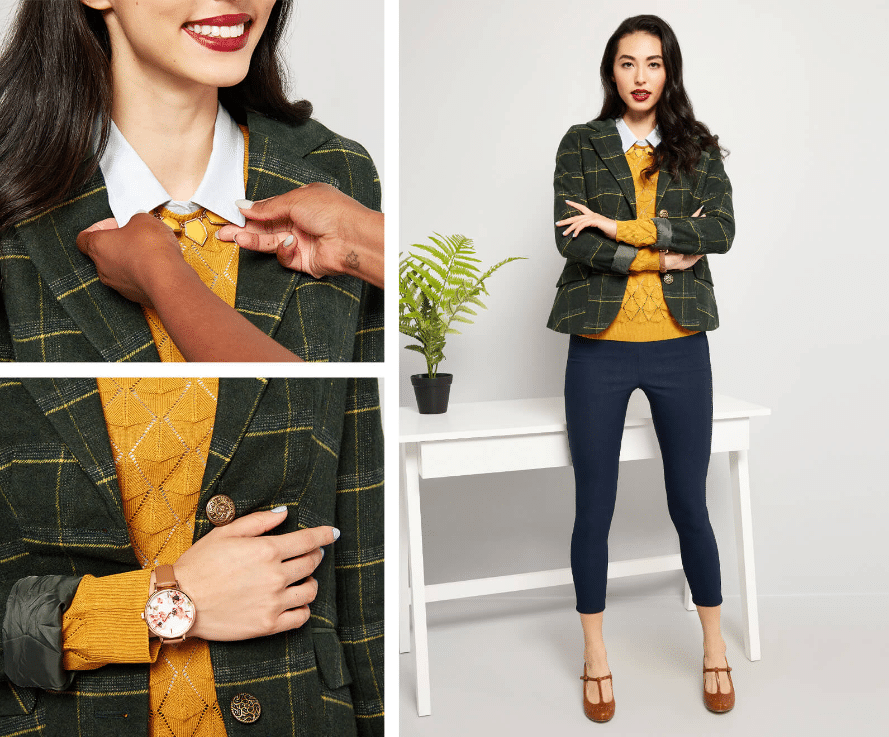 Pictured: Big Thinker Blazer, Looking Lively Textured Sweater in Mustard, Sunny Spirit Button-Up Top in Light Blue, Notice Taken Statement Necklace in Mustard, The Manhattan Pant in Navy, and Chelsea
While suiting is totally in right now, it can still be an intimidating shopping and styling experience. The good news is there are ways to update a suited look so that it feels modern while simultaneously exuding sophistication. Domonique has a few pointers for piecing together a standard work outfit with a fresh feel.
Tip 1: Buy separates in subtle colors so you can easily mix and match. This doesn't mean you have to limit yourself to brown and black! For example, this green plaid blazer can reflect your personal style with its fun pattern and texture, but keep you looking professional in its played-down tones and classic structure.
Tip 2: Try layering. Tuck a neutral-color button down underneath a lightweight sweater so you still look pulled together even if you take your blazer off. These layers will help maintain a classic look without seeming stuffy.

Pictured: Informed Ensemble Blazer, Informed Ensemble Skirt, Latest Inspiration Graphic Tee, Romance Remains Pendant Necklace, Angles and Edges Pendant Necklace, Better When Beaded Metallic Socks in Pink, and Ruby Shoo Waltz the Walk Loafer
Some shared office spaces have dress codes, while others are a little more flexible. Either way, you'll want your work clothes to reflect your dedication and drive, even if it's just for the sake of your own concentration. Here's Domonique's input:
Tip 1: Start with a sharp ensemble and play with accessories. This is a great way to show personality without overstepping dress code expectations.
Tip 2: "Business casual" allows for more freedom in your layering possibilities. If you choose a tee like I did, keep it neutral in color and not too busy.
Bonus tip: If you're wearing a skirt that hits above the knee, keep your shoes relatively flat to balance out the look.

Pictured: Salient Style Wool Coat, Sociable Scholar Corduroy Jumper in Navy, Admired Archivist Top in Bold Stripes, Dot Worry, Be Happy Tights in Burgundy, Sunday Saunter Block Heel
In most creative fields, showing your personal style is encouraged! This is where you're free to mix patterns, add extra pops of color, and really express yourself. Keep in mind that meeting new colleagues and touring the facility means you might be on your feet a lot on that first day, so the cute comfort of this look is crucial.
Tip 1: The key when pattern mixing is sticking to similar colors. In this look, you can see themes of maroon in the turtleneck and tights, as well as peach in the tights and heels.
Tip 2: Adding a coat in a classic shape and versatile color—even if it features a print like this one does—helps ground a fun outfit. It can also add interest to a more simple, jeans-and-tee look!
Pin this post so you can reference it later!
Conclusion : We hope these tips have given you some ideas and guided your decision about what to wear for the first day of work. If you're still feeling unsure, we suggest browsing through a few blogs on how to dress professionally or finding an article that will offer specific advice based on your industry. Whatever style or fashion sense you choose, make sure it makes YOU feel fantastic!