Visit Website
Hanna Andersson coupon code
---
Shopping for our kids may be tough job because we need to get the correct size and their favorite color and still manage not to roll our eyes at what they pick out for themselves. hanna andersson coupon code

Updated 01 Jun 2023 , Hanna Andersson coupon code
---
Expired : Hanna Andersson coupon code
---
About : Hanna Andersson coupon code

https://www.facebook.com/ShopHannaAndersson
https://twitter.com/happyhannas
Table of Contents
How to redeem Hanna Andersson codes
Select a Hanna Andersson coupon you are interested in on Couponlab.com Click use coupon button which is placed below your code. Copy the code. In most cases the coupon code is automatically copied by your browser. However, you can make sure and copy the code manually. In a new window the Hanna Andersson page should open. While doing the checkout, enter the Hanna Andersson coupon code on their shopping bag page in the box labeled web code. Before completing the checkout process make sure that the discount has been applied.
Hanna Andersson Clothing for Children
Hanna Andersson is an online retail store which specializes in children's clothing. It is a Portland, Oregon-based corporation which operates mostly through mail order and retail stores in the United States. They also have an online eCommerce website. The company was started in 1983 by Gun Denhart, in Portland, Oregon in the garage of her home. The company today is a leading retailer of children's apparel. Apart from business, the organization is also dedicated to community service and welfare. The company donates about 5% of the tax profits to various charitable organizations. The company's "Hannahelps" program awards yearly grants to schools and nonprofit organizations serving children throughout the United States.
Services offered at Hanna Andersson
The website deals mostly with children's apparel among a few other things.

The website has a few main categories such as girls, boys, baby, women, swimwear, and sleepwear.

These categories are further divided into subcategories. For example, girls' category is divided into subcategories like dresses, sweaters, pants, jackets, skirts, tops, sleepwear, toys and gifts etc.

The customer can select one of these options and purchase the item of their choice.

The other categories are also divided in a similar manner.

The customer can add the product that they would like to buy to the bag and decide whether or not they should buy the item later.
Why shop at Hanna Andersson
Shopping for our kids may be tough job because we need to get the correct size and their favorite color and still manage not to roll our eyes at what they pick out for themselves. And that can be a little tedious at times, especially when you need to convince the little one to agree with your choices. When you're shopping online, you are almost always looking for a particular item of interest and not whiling away your time in window shopping or, in this case, scrolling through web pages. So why not shop online for your kids as well? At Hanna Andersson, you can buy all kinds of clothing for your kids including sleepwear, swimwear and footwear. Beside selling quality clothing, Hanna Andersson also donates a certain percentage of its profits to charity for children who need help and care. So along with shopping for your children you would be donating to a good cause as well!
Deals and discounts available at Hanna Andersson
Hannaadersson.com gives its customers different kinds of discounts in terms of gift sets, gift cards, and clearance sales. While there are several options for the customer to choose from the website also gives certain deals to its customers. They provide discounts on various items even going up to half the price of the item. You can also use a Hanna Andersson web code available online to get what you want for lower and discounted prices. Apart from these discounts the customers can obtain gift cards for a special occasion and even lower prices at Hanna Andersson outlet. And the best part about these gift cards is that they never expire and have no last date of purchase!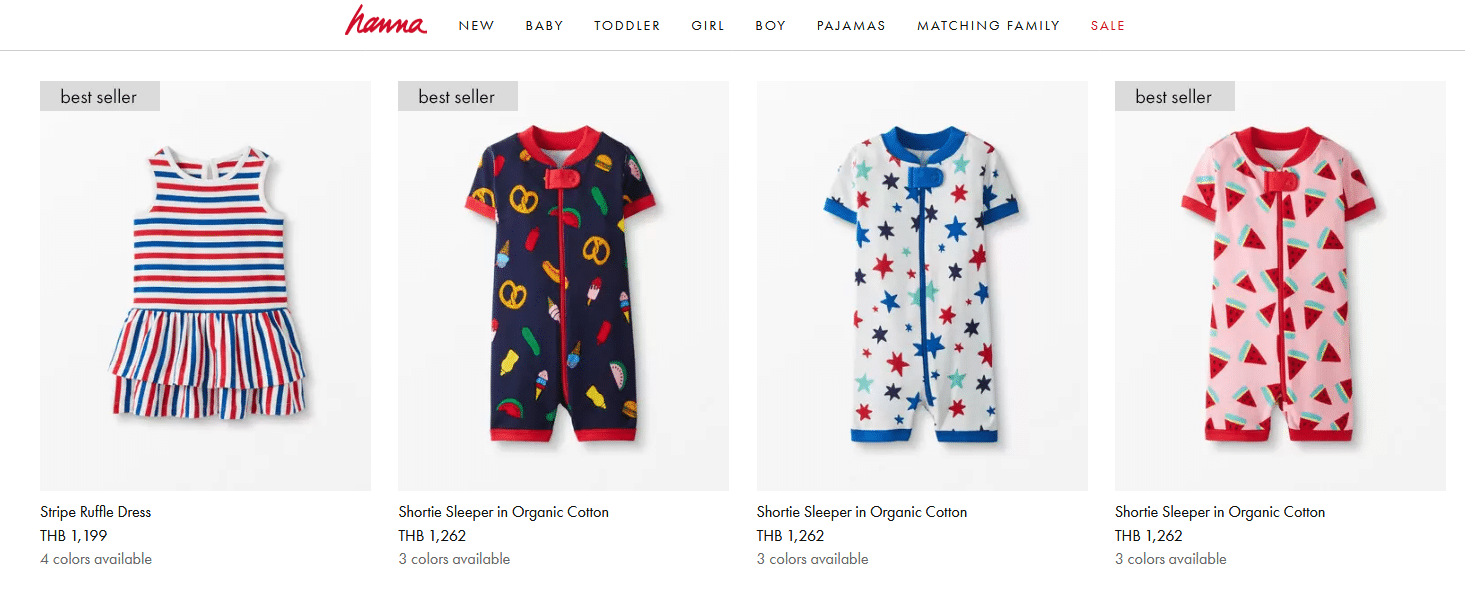 About Hanna Andersson
What is Hanna Andersson?
Until someone begins designing clothes for kids with grass-stained patterns, parents will need to buy some durable clothes as well as put in money for a good washer. At Hanna Andersson, you will find both comfort and quality of cotton clothing straight from Sweden to the U.S. The clothing gets an edge due to its soft fabric, comfy shapes and sizes. Most of the products sold by this brand are made using organic cotton while 60% of their clothing passes the European ecological certification. Apart from the cotton clothing that they make for babies as well as children, they also make sleepwear and sweaters for the entire family along with women's clothing. Toys, games, books and backpacks can also be found here. However it is the colorful yet comfortable clothing for kids that have made them famous. If you would like to save some extra money on the site then check out Couponlab.com.
How to use a Hanna Andersson coupon?
There are several Hanna Andersson coupons and offers available at Hanna Andersson which offer you a 20% discount on their products or even a discount of a dollar on specific departments like dresses and swimwear. You will also find frequent product Hanna Andersson coupon codes for discounts on certain brands or merchandise. Either click on the 'apply web code' or enter the Hanna Andersson promo code in 'web code' section to make use of these offers.
How to save at Hanna Andersson?
The site of Hanna Andersson stores is every savvy shopper's dream come true. It is always filled with a number of offers ranging from 'today's extra nice' to 'very good' price on various merchandise. You will also find seasonal discounts like their summer essentials that include tees, bathing suits and shorts. To get the latest scoop sign up for their email newsletter which will keep you updated on the latest products and sales. Twice every year you will find huge Hanna Andersson sale of more than 60% off on selected goods. The 'sale' tab too houses all the offers that are available. If you are looking to buy some matching clothes for the entire family then check out its 'Family Shop' where you will find that most of the products have a discount of 20%.
Hanna Andersson free shipping policy
Placing an order of $100 or more, before including taxes and shipping, will get you free shipping. They have an unconditional guarantee on their products which lets you return the product whenever you want for whatever reason. To know about their latest deals just check out the website.
Hanna Andersson coupon codes at Couponlab allow you to save your money and find the best clothes for children and adults. The brand already offers budget price products, however, with our discount codes you can save even up to 30% off on baby apparel and up to 30% off on boys and girls clothes. A Hanna Andersson promo code will give you an excellent opportunity to find the best deals and reduce your daily expenses thanks to the Couponlab coupons. Enjoy your daily online shopping, best prices and be up to date with the biggest sales of dresses, swimwear or other accessories.
save with our Hanna Andersson coupon code