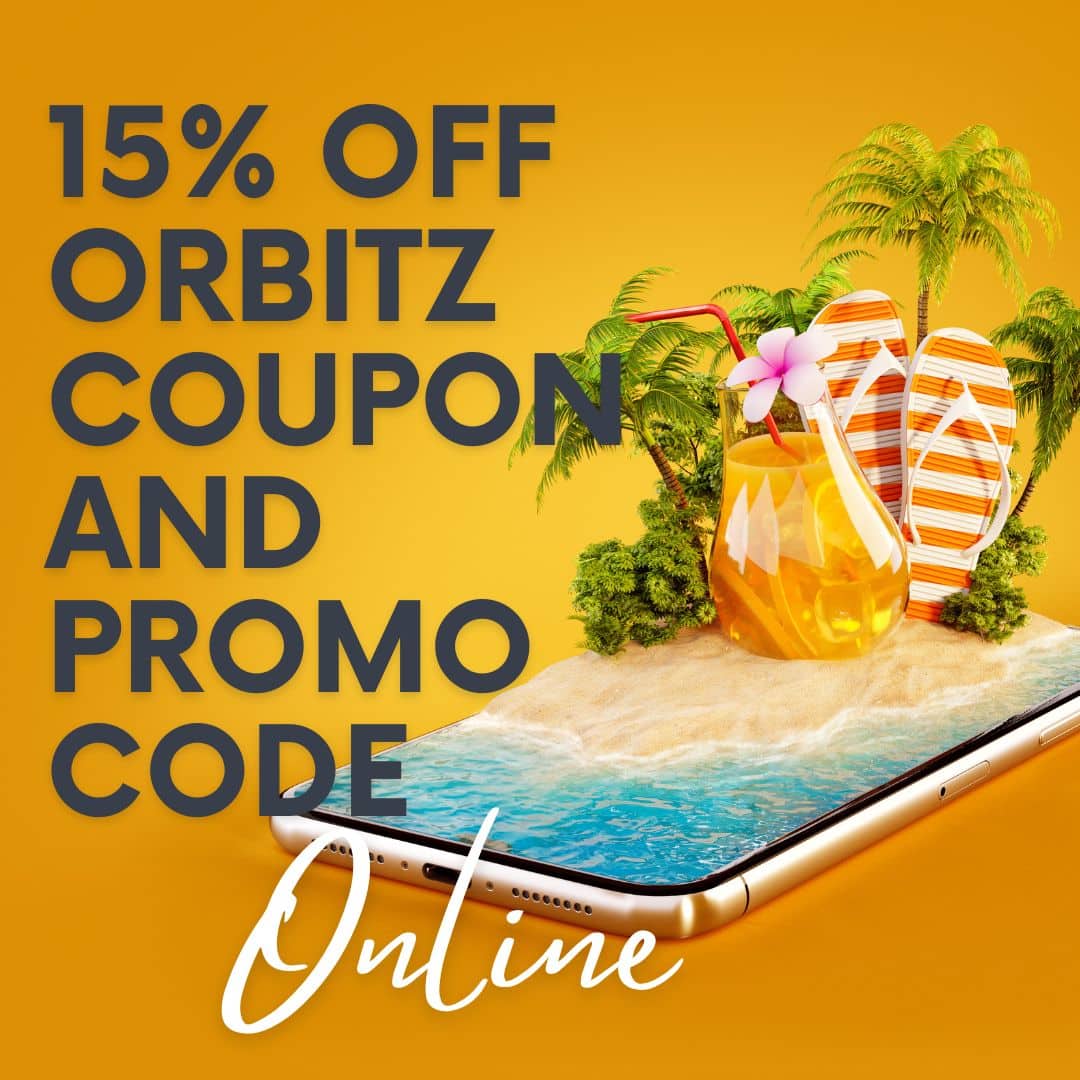 15% Off Orbitz Coupon And Promo Code
by couponlab
Experience a memorable travel for less by using the Orbitz coupon codes from Couponlab.com! Offering the cheapest hotel deals and airfare to all their clients, this renown travel company takes another milestone with their Orbitz coupons that can now be found at Couponlab. What used to be cheap has now become cheaper than ever, as you can get 20% off on your reservations and other travel deals that only Orbitz has to offer.
| | |
| --- | --- |
| 10% Off | coupon code : SAVEAPP10 |
| 15% off | coupon code : SAVEMORE |
| 10% off | coupon code : EXPLOREDR2023 |
| 15% off hotels | coupon code : HOTEL15 |
| Save $75 | coupon code : GETAWAY75 |
| 10% off | coupon code : LIVEITUP |
| 15% Off Car Rentals | coupon code : H876301 |
| $20 Off $100 | coupon code : H876301 |
| 15%off Vacation Packages | coupon code : SAVENOW |
| Hotels: 25% | coupon code : D464700 |
Couponlab now carries Orbitz promo codes that will make everything even more affordable for all tourists. Book your flight or reserve your hotel with the exclusive Orbitz coupons you can find at Couponlab right now!
How to redeem Orbitz coupon codes
Select an Orbitz coupon you want at Couponlab.com and press the Use Coupon button. This will copy the Orbitz promo code and open a new browser window with the webpage of the store. The code should be copied automatically, but i you prefer you can copy it yourself. Select the package you want and go to checkout. During the payment enter the Orbitz coupon code in the box provided. Before finishing make sure that the price has been lowered by your Orbitz coupon.

Orbitz – The One You Can Trust In Reservations
Orbitz is a company that caters to reservation needs and makes sure provide a full service. Orbitz.com began as an airline partner in 2001. Five major American airlines—Continental Airlines, Delta Air Lines, Northwest Airlines, American Airlines and United Airlines—invested in the company. Since then, the website has branched out and gradually began to introduce partnerships with hotels and even cruise liners. Though it faced some difficulties, orbitz.com eventually won a significant market share from the competitors because of its excellent service.
Notable Products
Orbitz.com has a comprehensive range of services. This is perhaps its most defining feature. For example, you can book multiple services as a package—you can book your flight and hotel together, or add a rental car service to the mix and gain discounts from the website. Of course, you can also book flights and cars together and choose not to book your hotel because you have other accommodations, and you can still enjoy discounts from orbitz.com. The brand also has a mobile app that can be installed on your device. This app provides a convenient way of making emergency bookings while on the go, as long as there's an Internet connection available.
Why Orbitz?
Travelers should look no further when it comes to their online booking needs. While other websites only limit themselves to airline and hotel reservations, orbitz.com has much more. It provides reservation services for car rentals, cruise lines, and even tours and activities in various destinations.
To make reservations more convenient for the consumer, the site also offers all-in vacation packages. Finally, the best thing about orbtiz.com is that it does not charge extra fees for its services. This means that consumers can expect to be charged less than what the competition could charge. They will get a reservation platform that offers convenience and allows them to realize savings as well.
Get Orbitz.com Discount Coupons
Orbitz.com may provide great discounts on packages, i.e. hotel, airline and car rental services in-one reservation. That's what makes orbitz.com a great choice for your travel reservation needs. However, users can actually gain more savings on top of what orbitz.com offers through the online Orbitz coupons that they can use when checking out reservations through orbitz.com's facilities.
The best thing about discount coupons is that they give additional discounts to what users already enjoy from Orbitz.com. A 10% discount coupon, when used together with Orbitz.com's 15% discount on a package, can give a whopping 25% discount. Now that's a great way of saving. Traveling shouldn't be that expensive, after all.
About Orbitz

What is Orbitz?
Orbitz is a travel company that functions worldwide. It provides services such as hotel booking, car rentals, flights, cruises, and other similar holiday activities. Both leisure and business travelers can find solutions to all their travel needs at Orbitz. It was started as a collaboration between a few airlines, namely American Airlines, Continental Airlines, Delta Air Lines, Northwest Airlines and United Air Lines. This was done to compete with the online travel booking trend emerging during that era. The company went public in 2007.
How to use an Orbitz coupon?
Orbitz coupons and promotional codes are issued very frequently. You can use them to plan your dream vacation at any time of the year. And the discounts offered here are just 'out of this world!' Some of them offer up to 60% reductions.
How to save at Orbitz?
The Orbitz Last Minute Hotel[Deals can offer as much as 50% discounts. But the catch is that you have to be ready to travel at a short notice. The Weekly deals at the website can offer reductions as high as 60% and are applicable 24/7. The summer months are the peak time for travel, and during this time, you can get an additional 15% markdowns on hotel deals. The Orbitz Last Minute Cruise can get you up to a 75% discount. Furthermore, you also get a $500 voucher on hotel deals with such bookings.
Florida is one of the most popular holiday locations in the Unites States with the picturesque Miami beaches and the wonders of Disney World. To cater to these needs, Orbitz has a Florida Hotel stays sections which can give you savings as much as a 60% discount. The Low Price guarantee of Orbitz is also a fascinating feature. If you find a better deal elsewhere, you will be offered a 110% refund on the difference, in the form of Obucks, which are credit points that can be used for other Orbitz purchases.