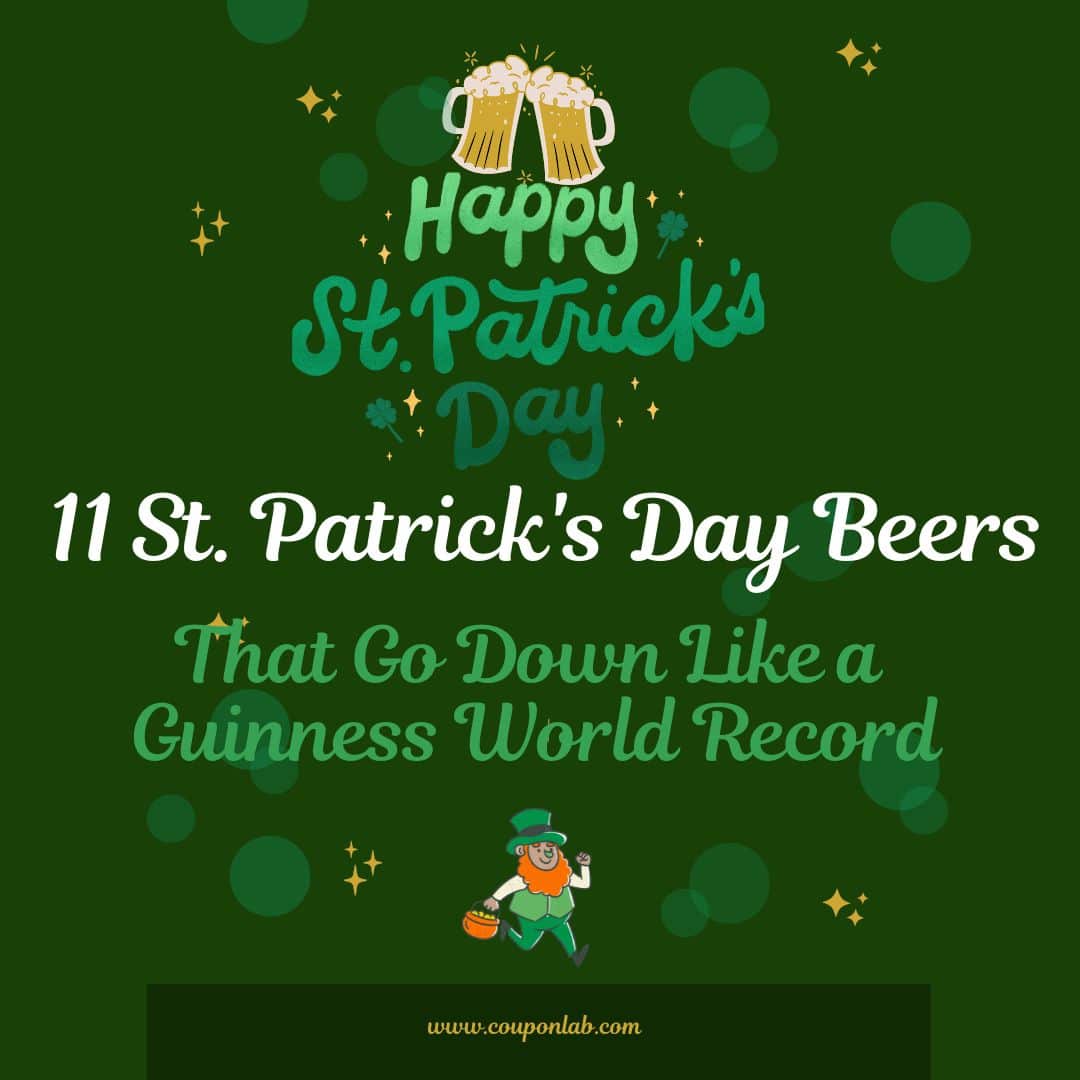 11 St. Patrick's Day Beers That Go Down Like a Guinness World Record
by couponlab
It would be hard to rationalize calling yourself a real beer drinker if you've never had a Guinness, or at the very least, a dry Irish stout. Many would say it's not March Madness until you've had a good stout to kick off St. Patty's Day. Even breweries on this list would probably tell you they drink a pint of Guinness quite often, if not out of respect, to see how their stout creations match up with the original.

History implies, in part, that the birth of stouts resulted from economics when Irish brewers, like Authur Guinness, started using unmalted roasted barley in favor of heavily taxed malts used in English porters. The new style resulted in a much drier, darker and stronger competitor to the mainstay porters, featuring a distinct, smokey-sweet flavor called "Guinness Extra Porter Stout." This quickly became the beer of Ireland and still is, hence a staple for St. Patrick's Day celebrations and the go-to for dark beer drinkers around the world year-round.
Guinness has inspired more than eight major style varieties of medium to full-bodied stouts with a wide range of tastes, feel, and alcohol levels (great read from Morebeer.com). Bringing various chocolate, coffee, oatmeal, Milk, dark fruit, and giant oak barrel-aged characteristics, stouts represent everything a real beer drinker could ever wish for…distinguished, velvety-smooth brew choices to enjoy on St. Patrick's Day and compare for a lifetime.
With help from Zak Rotello, beer lover and tap curator at The Olympic Tavern in Rockford, IL, here's a list of excellent stouts that go to eleven, expanding your palate beyond the original this St. Patrick's Day. #Slainte
Wake Up Dead Imperial Stout (Left Hand) 10.2% ABV. Left Hand is famous for its Milk Stout (and Nitro version), but this imperial Stout goes to 11 (literally…see ABV). Yet, the big numbers lead to a surprisingly drinkable, smooth medium-body brew that hides the alcohol quite well. It's very creamy, providing a distinct balance of raisin and roasty chocolate with mild herbal hop notes—winner of best beer label in this list, 22 oz. Bottles start at just $5.99.
Obsidian Stout (Nitro) (Deschutes) 6.4% ABV
"Smooth & roasty American stout," says Zak. "Intense aromas of coffee and chocolate, but very little sweetness on the palate.  Like most brews from Deschutes, there's no lack of hops to even out the finish. It's great on conventional draft, but a very special pint if you can find it on nitro." This famous Stout is readily found in bottles starting at $8.99 a six.
Storm King Stout (Victory) 9.1% ABV
Aptly named "king," this American Imperial Stout is one of the bigger, hoppier stouts you'll ever drink. Best served closer to room temp. To help ease the aggressiveness of the hops, the smokey, roasted, sweet chocolate taste is balanced quite nicely with the piney hop bitterness. Best on tap, but also found in 4-packs of 12 oz. bottles.
Double Stout Black Ale (Green Flash) 8.8% ABV
A long-time favorite of some of the boys at Forest City Brewers, this high-powered stout features "golden naked oats mashed with dark crystal and robust roasted malts create a luscious black brew with satin smooth finish. An old-world style, done the Green Flash way. Big, bold, flavorful and complex." I can't say that any better.
Imperial Stout (Lagunitas) 9.9% ABV
With quick notes of cereal, oats, semi-sweet chocolate, and oatmeal, this deep dark brown stout hides the big alcohol with its complexity and smooth finish. Roasty, nutty, and not too sweet, Lagunitas doesn't disappoint, as this beer will give you a little sumpin' and then some more.
Boston Irish Stout (Harpoon) 4.3% ABV
This traditional dry Irish Stout is a full-bodied, creamy, easy drinker for those lucky enough to be in a pub in the Northeast. Harpoon says it combines the roasted and chocolate character of six malts with delicate Willamette hops, making it an old-world treat in modern times. My good friends in Boston swear it's old school to the max.
Narwhal Imperial Stout (Sierra Nevada) 10.2% ABV
Zak raves, "A jet black, high viscosity octane boost of Stout. Burnt coffee aromas lead into a midpalate with well balanced sweetness and bitterness. Brightly hopped & slightly boozy finish, but not enough to scare you away from a second glass. Would love to get my hands on the barrel aged version of this." So would I!
Milk Stout (Snow Plow) (Widmer) 7.6% ABV
It wouldn't be a stout list without a Milk Stout. Widmer Brothers and the Oregon Brew Crew created this Stout as the first Collaborator project, and it is commercially brewed as a limited seasonal called Snow Plow. This beer is smoky smooth for sheer sweetness and silky mouthfeel, even straight from the bottle (but better in a pint glass, preferably in a Northwest pub). Cascade hops add a sneaky bright aromatic touch and a nice balance to the rich chocolate malt character.
The Poet Oatmeal Stout (New Holland) is 5.2% ABV. I had the privilege of being in New Holland last St. Patrick's Day which featured a colorful parade and lots of "all-day" drinking buddies…bucket list was checked! The pinnacle was tasting Dragon's Milk and The Poet in one sitting. The latter was a delightful surprise, posing as creamy, deep, full-bodied, rich, rib-tickling nectar. Dark fruits, coffee, and molasses lead the way to a spicy finish. Exclusive to Western Michigan for most, if you can score a bottle of The Poet, treasure each verse.
Satin Solitude Imperial Stout (Central Waters) 7.5% ABV
This Midwest brewer is a rising star, and this Stout is one of my new favorites. Deep, dark, and yummy, it tingles your lips and goes down incredibly smooth. You know you're drinking a special beer with each delicious malty mouthful. Satin Solitude is appropriately named and poised to be remembered. Limited distribution in the Midwest–call a buddy in Wisconsin and have them send you a sample before while it's on the shelf.
Java Stout (Bell's) 7.5% ABV
Even with Bell's wildly popular Hopslam running amuck, this gem of a brewery has a unique stout to close out this great list of stouts. Says Zak, "Creamy tan foam atop inky black beer. The first whiff o, and thes yearly favorite is straight cappuccino and hops. Right at the ABV border of imperial (7.5%) this coffee spiked beer is a great pair for dessert, especially vanilla ice cream or Irish cream spiked cheesecake."
SERVING TIP (via Totalwine.com): Always drink a stout in a glass, preferably a simple pint glass, or a snifter can be used for double and imperial stouts. Give stouts a firm pour to create a foamy head and release all that rich aroma, and watch the bubbles as they seem to float downwards.
RESOURCES: This shortlist is a great stout starter–find more details web sites and apps like (BeerMenus.com, BeerAdvocate.com, Pintley, and Find Craft Beer) to help you navigate the endless beer choices that make St. Patty's celebrations so unique.