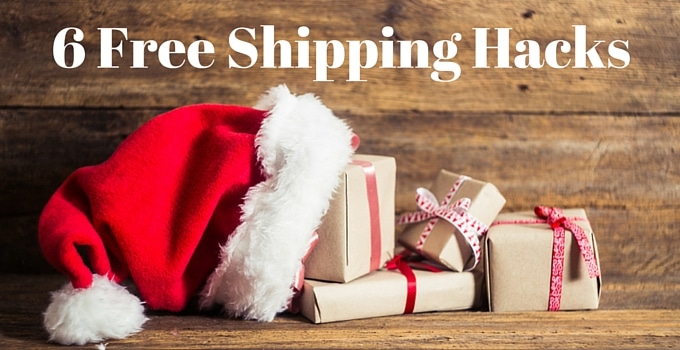 6 Free Shipping Hacks to Keep Gift Costs Down
by couponlab
If you're still planning on doing the majority of your last minute gift shopping online and are starting to panic about getting good value on shipping costs, then you're thinking right. Remember last year when many millions of packages didn't make it to holiday celebrations on or before Dec. 25 … even though stores said they would. Well, keep in mind, online shopping set massive records this season already, and postal workers are actually delivering packages on Sunday this year.
If you really want to avoid the last minute store rush late next week, standing in long lines, driving around for far away parking and dealing with over-worked cashiers, get that shopping done by this Friday, which just happens to be Free Shipping Day.
Did you know that 76% of online holiday shoppers buyers say free shipping most influences their gift purchases ( survey). These six free shipping hacks will help you take advantage of online discounting and secure on-time delivery.
SIX FREE SHIPPING HACKS
1. Shop Free Shipping Day on Friday, Dec. 18
This may seem like the most obvious way to secure free shipping on gifts, but, although thousands of stores will offer huge discounts during this event, few will drop their existing spending thresholds to free. However, many may drop the threshold to a more reasonable spending requirement. For stores that do offer free shipping for this event, make sure you read any restrictions that may apply. Keep in mind that there are dozens of stores that offer free shipping all the time and others that offer a flat fee year round. In fact, you may be able to find free shipping right now.
2. Haggle
If you can't find free shipping offers for a particular store and don't want to buy extra items to meet their minimum spending threshold, contact customer service and ask how to get free shipping. Your chances are pretty good this time of year the customer service representative will share a coupon code with you that can be used in checkout to allow for a shopping discount. Even if your haggling just gives you expedited shipping at a lower cost, it can be worth a couple of extra minutes to secure it.
3. Buck up
If you're shopping on a retail website that requires you to spend a specific amount of money to get free shipping (like Walmart, which offers free shipping with $50 spent and 3% cash back), do some quick math and decide whether paying the shipping cost is a better value than buying more stuff to meet the minimum spending threshold.
4. Site to Store
One way to avoid online shipping costs is to choose in-store pickup (if available at checkout). Yes, it may seem like a stretch to save money avoiding shipping by having to go to the store, especially this time of year. But, if you've procrastinated and expedited shipping is the only way to get your item, this could save you time, money and your tooshie! It's also a good way to take advantage of online only coupons and deals and for avoiding shipping costs for items that can only be bought online.
5. Subscribe
Some shopping subscriptions including free or expedited shipping with membership. Amazon Prime is $99 a year and offers free two-day shipping on most items. Members also enjoy other exclusive benefits, and  shoppers can get up to 10% Amazon cash back. Shoprunner which charges $79 a year for free two-day shipping and returns from hundreds of top stores, like Hugo Boss. You can do a 30-day free trial, or you may be eligible for a complimentary subscription if you use an AMEX card.
6. Compare Store Offers
One store might offer an item with free shipping but sell it for a higher price than another store that doesn't offer free shipping. That's easy math unless you can find coupons and rewards that make one clearly better than the other. If you can stack coupons with cash back by shopping through sites like , which offers cash back from more than 1,700 storesand often features increased cash back during holiday seasons, you choice can be a no-brainer, especially if the credit card you use offers cash back, too.
Do you have any free shipping hacks? Let us know in the comments!