Best Buy Man's Black Friday Survival Guide
by couponlab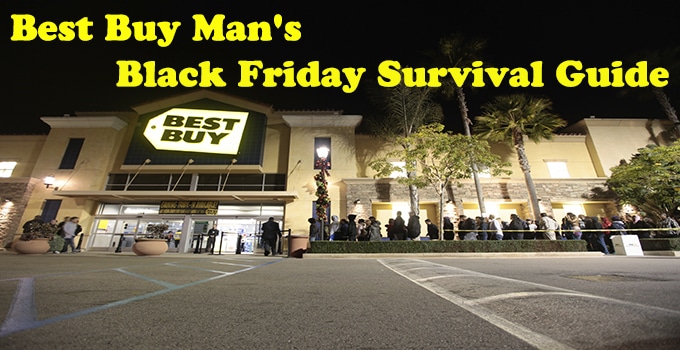 Although Black Friday is just under a month away, one man is already prepared to get shopping. That's right, Kevin Sutton has already pitched his tent outside a Best Buy in Orlando, an act that has earned him the nickname "Best Buy Man." A seasoned Black Friday veteran, Sutton has a lot of wisdom to offer about making the most out of your Black Friday experience. We recently had the chance to chat with him to get his insights on how to survive America's most popular shopping day. Here are some of Sutton's key tips for waiting in line on Black Friday.
Tip 1: Be First
Sutton preaches that if you're going to camp out early for Black Friday, you might as well get there early.There is nothing worse than being the second in line. According to Kevin, he has lost out on a year supply of Krispy Kream Doughnuts for being second place. Make sure you ask the manager about any rules with staying on private property.
Tip 2: Keep Your Sanity
Bring along friends or family in order to keep from going crazy due to loneliness and boredom. Right now, Sutton is going it alone and is finding that he appreciates having loved ones around. Bring books, magazines and an extra battery or method of charging your electronics for some entertainment. One of the most unnerving experiences can be the first night alone. Every noise and shadow can keep you on your toes. Being with others can be very beneficial.
Tip 3: Celebrate Camaraderie
Sutton has developed many great friendships over the years from socializing with his fellow shoppers while waiting in line. Don't be a hermit. Embrace your common love of Black Friday with those around you. You never know; that tent-dweller next to you could one day be your best friend.
Tip 4: Multitask
Sutton doesn't just sit around and twiddle his thumbs when he waits in line. Rather, he has found a way to work from the line by broadcasting his radio show from his tent. Although you probably don't have a radio show, there's probably still a way you could be productive from the line. Maybe make important business calls or blog your whole experience and pass on wisdom to future Black Friday shoppers. The possibilities are endless! see more best buy promo code student at besbuy.com
Tip 5: Shop Creatively
Rather than target the big ticket items, Sutton chooses to take the road less traveled and buys stuff like flash drives. He also shops not just for Christmas gifts, but for the whole year's needs. That way he gets all the deals and saves himself a lot of time for the rest of the year. Think outside the box this Black Friday.
Tip 6: Spread the Love
Sutton says people can be downright mean to the person who gets there early and is first in line. There's no need for that. Let's keep things in perspective: great deals on televisions and laptops are no reason to turn into animals. This also applies to having etiquette while in the store during Black Friday shopping hours. Kindness can go a long way when you can't reach an item, or, perhaps, someone has taken more than they need.
Tip 7: Look for Ways to Make a Difference
Sutton didn't decide to camp out for 33 days on a random whim. He's doing it to raise awareness of homelessness. Perhaps you could adopt Sutton's philanthropic spirit and use it to inspire your own Black Friday camp out. Instead of thinking about yourself and your shopping desires the whole time you're in line, why not look out for the needs of others as well?
We would like to send a heart-filled thank you to Kevin Sutton for making time for us during his fund-raising efforts. We love having the knowledge from a Black Friday pro. We hope these tips will be your survival guide to camping out.
What are your pro tips for camping out for Black Friday?