Collectible Star Wars Toys Worth A Pretty Penny
by couponlab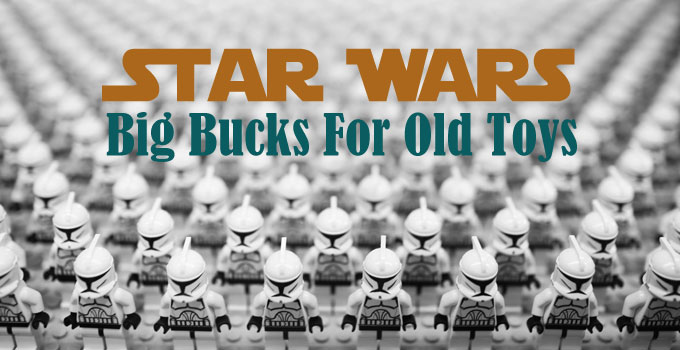 You may have heard that there's a new Star Wars movie coming out soon, and, of course, that means an influx of Star Wars-themed toys and merchandise.
Star Wars toys are highly collectible and exceedingly valuable.
---
oooooooooooooooooooooooooooooooooooooooooooooooooooooooooooooooooooooo
So valuable that the esteemed auction house Sotheby's, along with eBay, organized a Star Wars collectibles online auction on Thursday, Dec. 11, one week before the seventh film in the world's biggest film franchise releases. The 175 lots sold at live auction went for a total of $502,202.
While we all know that the Luke Skywalker action figure with double-telescoping lightsaber is always valuable, it didn't win out this auction. The priciest lot? A "Star Wars: Power of the Force" coin set from 1985 sold for a whopping $27,500. Most of the action figures (boxed, of course, and mint condition) went for between $750-$6,000. However, one rare Hungarian Boba Fett action figure from 1989 went for $15,000, although it was only expected to fetch between $3,000-$5,000. A Polish poster for "Star Wars: A New Hope" sold for $3,750.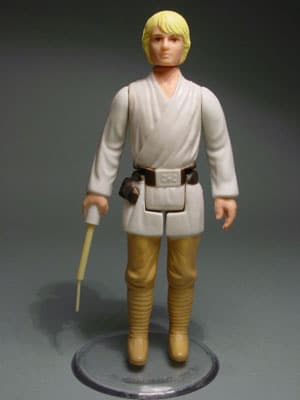 If your mom bought you Star Wars action figures way back in 1977 and you held on to them and kept them in the box, they're worth a pretty penny today. (If you didn't listen to mom when she asked you to clean out your childhood bedroom, and she sold your toys at a garage sale, man are we sorry for you.)
So what toys from "The Force Awakens" line might eventually be worth money? We can't say for sure, but any time you accidentally get a villain Kylo Ren cosplaying as a Captain Phasma in a packaging error you just might want to hang on to it. Collectors love production errors — remember the naughty version of the 1977 C-3PO trading card?
Cool! Captain Phasma coplaying as Kylo Ren! #Oops #YouHadOneJob #ForceFriday

A photo posted by uhnet (@uhnet) on 
No one was shocked more than we were upon learning that Rick Springfield (yes, of "Jessie's Girl" fame) owns what has been deemed one of the world's largest collecions of Star Wars action figures. He makes an interesting point recently in a Rolling Stone article: "They're cheesy figures!" Springfield laughs. "They're badly painted, badly made … the only cool thing is the great artwork."
We bought a few of 'The Force Awakens" action figures and were underwhelmed, to say the least. We echo Springfield's sentiment: both badly painted and badly made. Maybe that's the charm behind them, and perhaps it speaks to the power of the Star Wars franchise. Nostalgia mixed with money is a dangerous thing.
The lesson here? There's no rhyme or reason to which toys will be worth a fortune three decades from now. So hang on to your Jar-Jar Binks action figure — he may be worth a pretty penny down the road, no matter how much you may despise his character.