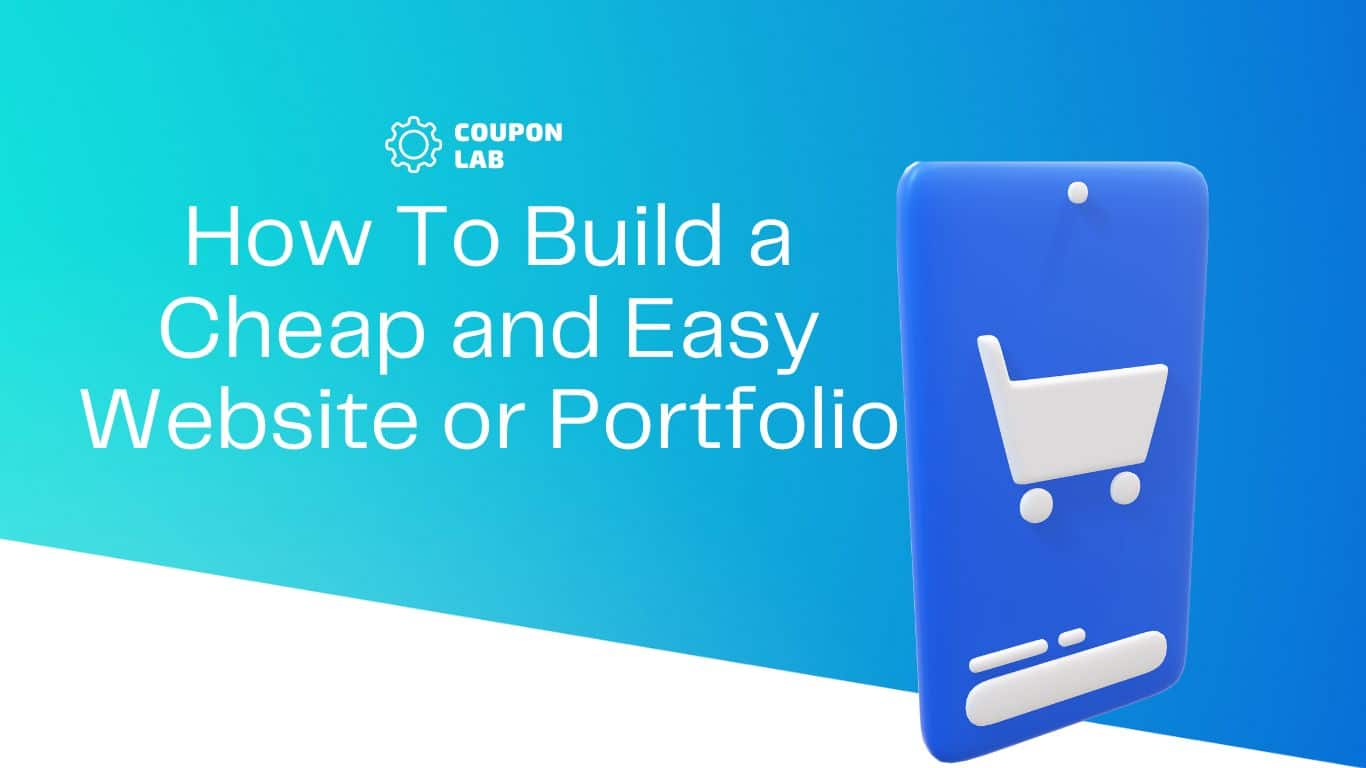 How To Build a Cheap and Easy Website or Portfolio
by couponlab
So you've decided to create a website. Congratulations! But where do you start? Don't worry: It may sound daunting, but it's a lot easier now than it was a few years ago. Here's a beginner's guide to building a cheap website or portfolio.

FIRST: FIND A PLATFORM (FREE)
A platform is essentially what you will build your website on. There are many different platforms, several of which are great for beginners:
CHOOSE A DOMAIN NAME (~$10/YEAR)
A domain name is what you will call your website. Some examples are MyAwesomeWebsite.com and YourName.com.
After you choose a domain name, you'll need to register it. This ensures no one else can use it — it's like trademarking. Registering your domain is super easy, and many sites can do it. The most popular ones are:
Any of those are great, easy options to register your domain name.
CHOOSE SHARED HOSTING (~$4/MONTH FOR THE CHEAPEST OPTION)
Shared hosting puts your website on the same server as others. It provides user-friendly applications that are easy to navigate, access to popular programming languages PHP and MySQL, and gives you the option of hosting more than one website. Five hosting platforms often recommended include:
Check out reviews on webhostingtalk.com before purchasing your plan, and remember, there's no such thing as free bandwidth!
SET UP YOUR SITE (FREE)
As mentioned earlier, many different platforms for building a website nowadays exist. Here's a list of the pros and cons of some of them:
WORDPRESS
WordPress is an excellent option if you're building a site that's either primarily text-based or incorporates text and images.
Target: Writers and small businesses
Pros: It's easy for beginners, with many plugins and themes available to suit your needs
Cons: You will not receive all the customization benefits of self-hosting
Price: Basic is free, Premium is $99/year, and Business is $299/year
TUMBLR
Tumblr is an excellent platform for both text and images.
Target: Writers and visual artists
Pros: Completely free, easy to use, and easy to share Tumblr content
Cons: Many Tumblr sites look generic; it's more of a platform for casual bloggers than professionals
Price: Free
WIX
Wix is easy to use and requires no knowledge of coding.
Target: Writers and small businesses
Pros: It requires no knowledge of coding and is generally considered more straightforward to use than WordPress
Cons: Code is not open source, so Wix isn't as customizable as WordPress or other options
Price: Basic is $4.08/month, Combo is $9.25/month, Unlimited is $12.42/month, eCommerce is $16.17/month and VIP is $24.92/month
SQUARESPACE
Squarespace sites look great and are easy to use. Plus, its customer service is tops.
Target: Writers, designers, and visual artists
Pros: It requires no coding knowledge, and Squarespace promises to answer all questions within one hour (an unheard-of level of customer service!)
Cons: Code is not open source, so sites are less customizable than WordPress
Price: Personal is $8/month, Business is $18/month, and Commerce is $26/month.
JIMDO
Jimdo is ideal for photographers, designers, and other visual artists who want to showcase their portfolios.
Target: Photographers, designers, and visual artists
Pros: Good selection of templates and an easy-to-use interface
Cons: With the basic version, Jimdo advertisements are obvious and distracting
Price: Basic is free, Pro is $7.50/month, and Business is $20/month
ZOHO SITES
Zoho is another user-friendly option that's great for beginners and advanced users.
Target: Writers and small businesses
Pros: It offers a visual editor for those who don't know HTML but also has an HTML/CSS editor for more advanced users, and its drag-and-drop tools are easy to use
Cons: Zoho doesn't have an option for using Google Analytics, which you may want to use to track your site metrics
Price: Standard is $12/month, Professional is $20/month, and Enterprise is $35/month
GOOGLE SITES
Google Sites is the perfect option if you want to build a simple site and have others collaborate on it.
Target: Small businesses, students, and participants in group projects
Pros: It's easy to collaborate with others and does not require any HTML knowledge
Cons: It's less customizable than other options
Price: <Free
Now your website is set up and ready for you to fill with your creations, content, and personality. Go out and show your site to the world!