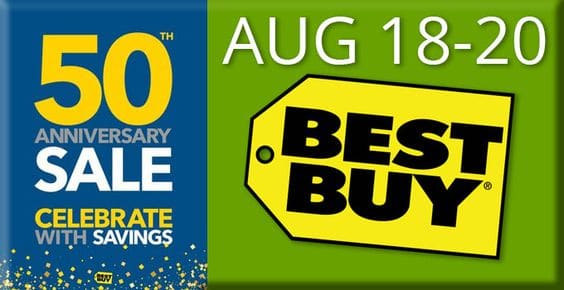 Like Black Friday? How Best Buy's Anniversary Sale Stacks Up: UPDATED
by couponlab
With their  anniversary coming up on Aug. 22, Best Buy announced their 50-Hour Anniversary Sale today with 50 deals they've called "Black Friday-like." Whether or not that's true, we've decided to find out. Last year, Best Buy had a 59-page Black Friday ad, so we compared that with the few deals announced for this weekend's sale:
Best Buy  Anniversary Sale BETTER THAN BLACK FRIDAY?
Pairing the available student deals with the anniversary sale's deep discounts on MacBooks is absolutely better than last year's Black Friday $150 off MacBooks. If you're a student, you have access to a $150 discount on MacBooks, which can be stacked with the sale's $150 for a total of $300 off. This could be true as well for any software deals on Office Home & Student they might release when the sale starts at 10 p.m. CT tonight online and in-store tomorrow at local opening times.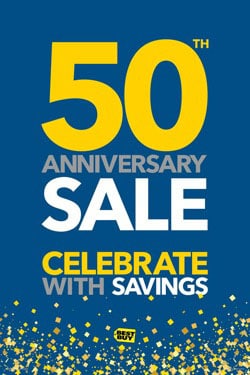 $400 off a 65-inch Samsung 4K UHD TV sounds like a great deal, and it is, but it's not better than last year's Black Friday sales of over $500 on similar televisions. This could be due to 4K TVs already being lower in price this year than last. If you haven't hopped aboard the 4K train, it might be best to wait until Black Friday 2021 to do that.
Last year, Best Buy's Beats Powerbeats2 deal was only $100 off; this anniversary sale has customers saving $180 on Beats Studio headphones, almost double the discount from last November.
Black Friday 2020 didn't even touch the iPhone, but with the iPhone  and  Plus' recent release, this anniversary sale is the perfect time to capitalize. Get a $1 iPhone  or $99.99 iPhone Plus with two-year activation from Sprint or Verizon; if you're an AT&T customer, get a $200 gift card with your iPhone or Plus activation. If you've been waiting to buy a new cell phone, this weekend is the time to do it.
The anniversary sale kicks Black Friday 2021's butt when it comes to video games and peripherals. Up to 70% off LEGO Dimensions, Skylanders and amiibo means you can maybe skip the Black Friday line for kids' stocking stuffers. Last year's only PlayStation  deal came  and "Uncharted" 1-3 for $299.99. During the 50-Hour sale, you can get the PlayStation with "Call of Duty: Black Ops ," , "Destiny" and two other select games of your choosing for $349.99. This is a slightly better deal, coming with 4 games instead of 3, hopefully with the option to pick two newer games. The "Uncharted" games in last year's bundle were fairly old releases, and they were customers' only choice, which soured the bundle a bit.
If you've been putting off back-to-school shopping or looking forward to Black Friday but not the lines, the 50-Hour Anniversary Sale is a great opportunity to shop.
UPDATE
The 50-Hour Anniversary Sale has launched and with it, more "Black Friday-like" deals. Do the rest of the deals hold up with the announced ones? Let's take a look:
Laptops are always a big seller, and this back-to-school season is no different. Best Buy has a few different laptops on sale for their anniversary, so we picked out a couple to compare. The Dell Inspiron  at $249.99 ($80 off its regular price of $329.99) is a pretty good steal for the money. The only thing mildly similar from last year is the Dell 15.6-inch touchscreen with for $299.99 ($130 off its regular price of $429.99), which is a deeper discount for a slightly better computer. The HP laptop discounts from last year's Black Friday were pretty shallow, which gives this sale's HP Pavilion . It weighs in at $349.99, which is a $150 drop from its regular price of $499.99. The verdict? The 50-Hour sale's laptop deals are about even with Black Friday 2015's, but there is nowhere near the variety. Wait for Black Friday before you shop laptops; they'll be bundled with more and come with steeper discounts.
Apple products don't go on sale very often, or at least, when they do, it's not for much. The 50-Hour sale's $50 off a  Apple TV deal is something we didn't see at all last Black Friday, so definitely snag this while it's live. You might not see it again come Black Friday 2021.
The most discounted Canon printer we saw last year during Black Friday from Best Buy was the $69.99 Canon imageClass laser printer (originally $159.99), which doesn't even come close to the $125 off the Canon MAXIFY wireless all-in-one for $74.99 (originally $199.99). Sure, it's $15 more than the imageClass and it's not laser, but if you need high quality color prints, this printer wins. Again, the selection on printers in this sale is not as good as Black Friday, but if you like Canon and need a new printer, pick this one up.
We'll be updating this piece all day as we're able, so stay tuned for more deal comparisons!