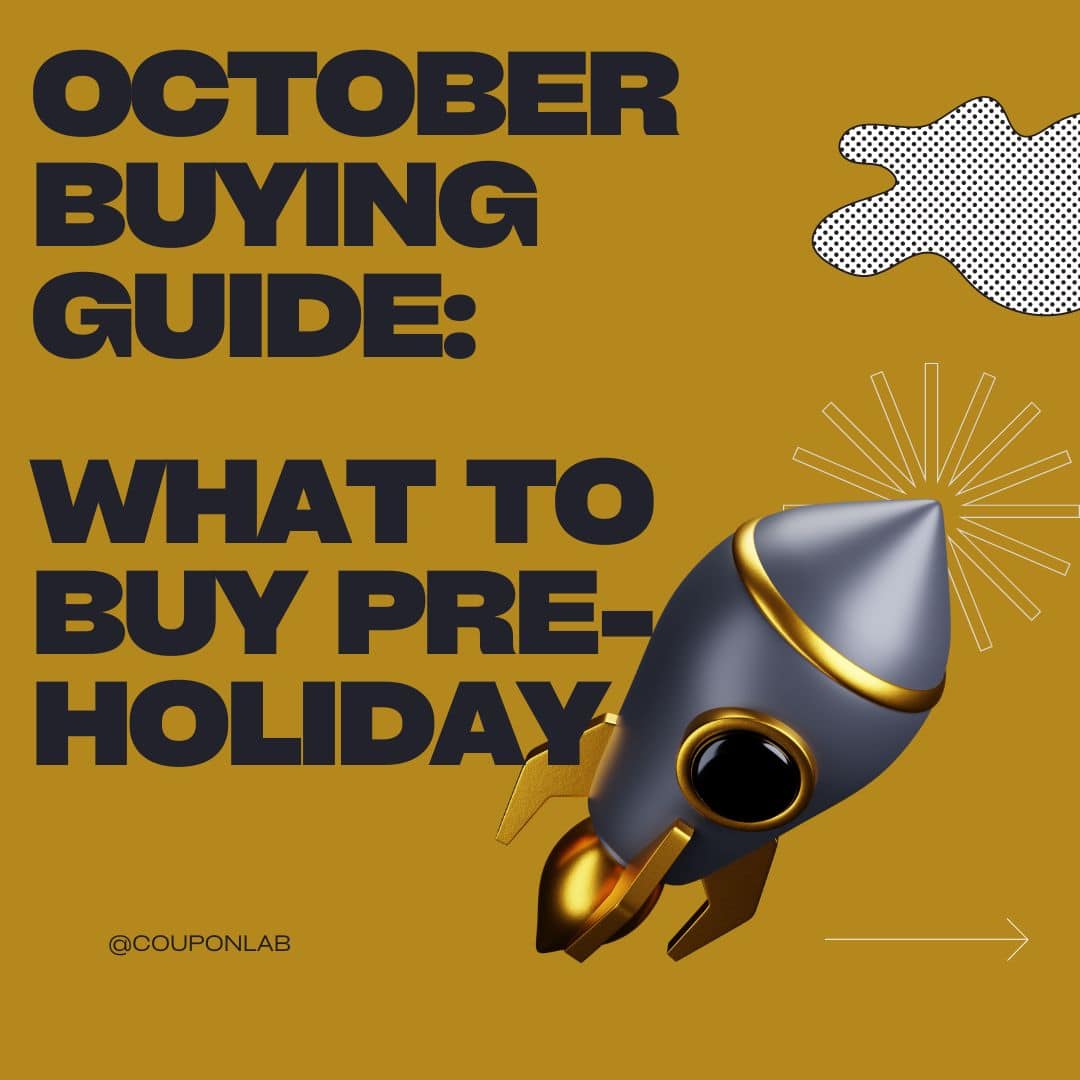 October Buying Guide: What to Buy Pre-Holiday
by couponlab
TRICKS TO FINDING SAVINGS THAT "TREAT" PRE-HOLIDAY SPENDERS. 
Last year we compared October shopping to smashing pumpkins (the act of, not the band). You can get a cheap thrill, but it's not necessarily for everyone. But thanks to Apple, Amazon, and an ever-earlier smattering of holiday retail news, that is likely to change. Some retailers make Black Friday and Cyber Monday deals happen every Friday and Monday leading up to the actual shopping events; that's already happening. Will we see yet another Prime Day before the year's end? UPS promised surge pricing this holiday, making shipping costs rise the longer we all procrastinate. So is October now the best time to buy holiday gifts?
Let's say that with a growing number of better early sales presenting competitive savings and the opportunity to get it shipped cheaper, October has much more to offer than fall clearance items if you know what to buy. Here's our October Buying Guide:
Tablets: 
Prices will be excellent during October for tablet and iPad deals. With Apple's pre-mature announcement and impending October launch of a new high-end Apple iPad Air (2022), Amazon's new Kindle Paperwhite for $100 and a new "stocking stuffer" $50 Amazon Fire 7, and Samsung's new Samsung Galaxy Tab S8, the tablet market is prime for gigantic discounting, especially on older tablet/iPad models (we're expecting a "Fire 7" sale soon). Typically we see pre-holiday promotions of up to 20% off tablets. Still, with this newer technology en route, even Microsoft Surface Go 2 and higher-end 2-in-1 laptops should see discounting well ahead of Black Friday this year.
Home and Garden Clearance:
For most of the country, there is still agreeable weather to enjoy weekends entertaining at home with tailgating parties and backyard fires. Big fall sales offer October shoppers one last chance at final clearance (what remains) with discounts of as much as 75% off grilling accessories, patio furniture, propane heaters, and other outdoor accessories that will be at their lowest the year. Homeowners will also be outside "winterizing," and retailers typically respond with significant savings, from clearance on lawn seed, fall fertilizers, rakes, deck and house paint, and storage organizers to store your garden tools and products for the winter. It's also a chance to save money and stock up for next year on sale items like lawn spreaders, cultivators, hoses, and pots. And expect early pre-sales on snow removal equipment as those items move into inventory.
Holiday Home Prep:
Columbus Day sales and other Oktoberfest-like weekend sales promotions will be worth your attention, especially if you're in the market to make use of deals on higher-end appliances, furniture, cookware, and home theater products to prep for Thanksgiving events. Interior projects like flooring, rugs, and window treatments boost savings during these sales.
Travel Deals:
If they haven't started booking just yet, holiday travelers will want to keep an eye out for promoted holiday discounts on airfare, hotels, and car rentals before the better selections of seats, rooms, and auto choices get booked up. Fall vacations and cruises can be readily available and very cheap if your schedule is nimble. It's off-season but still warm and dry enough in many destinations to get choice accommodations at a cut-rate. Travel bookers should always take advantage of cashback from more than 100 travel sites by shopping through Couponlab and seeking insider travel tips and tactics for finding the best rates, credit card hacks, and other savvy ways to stack travel offers via Couponlab's Travel Discussion.
Halloween:
Early shoppers can find comparable Halloween deals and better selections through last-minute and after-Halloween clearance sales. For example, Newegg (an unlikely source known primarily for tech deals and coupons) offers costumes and costume accessories up to 70% all month, free shipping coupons, and up to 2% Newegg cash back through FatWallet. Sites like HalloweenCostumes.com already offer up to 90% off plus 7.5% cash back, and big-box stores like Target, Kohl's, Home Depot, and eBay all have early discounts of up to 50% off with additional money back on Halloween deals.
Clothing and Denim:
October is an excellent time to save on clothing, especially denim jeans and men's shoes, as fall fashion hits full stride early this month and clearance sales crop up towards the end of the month. Women's fall fashion sales are prominent and expand beyond celebrity-backed clothing and jeans, with savings on boots, handbags, jewelry, and other apparel and accessories all month. Stack your savings with additional cashback from 500 apparel stores. Expect Cyber Monday-like discounts of up to 40% from online brands like Levi's, AERO, 7 for All Mankind, and Lucky. Stores like Macy's, Old Navy, and Kohl's will offer similar savings for men, women, and kids. Also, top sports and outdoor stores like Cabela's, REI, and Bass Pro Shops will feature sales of outdoor sports apparel and gear for hunting, hiking, and other fall activities.