RUE21 IS CLOSING 400 STORES NATIONWIDE
by couponlab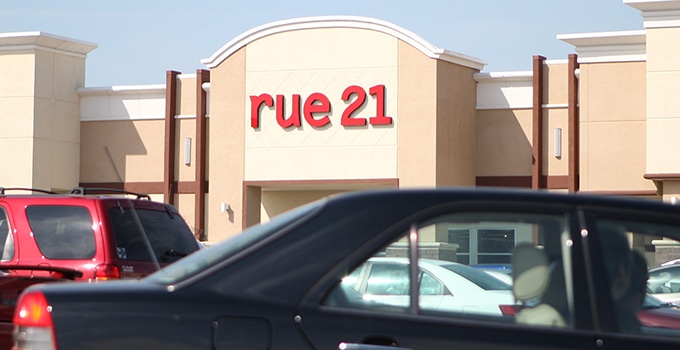 UPDATED 4/20/17: USA Today has released a partial list of the stores that are closing so you don't have to scrape through rue21's store search feature.
No stranger to financial hardship, teen clothing company rue21 is shuttering 400 stores across the US. Rumors flew over the last few weeks that they might be filing for Chapter 11 bankruptcy, like many other struggling retailers have in the past three and a half months, but it appears they are closing stores to ease the financial burden of unpaid debt that will come due in 2020. The company confirmed this announcement, first broken by DebtWire, in a Facebook post, saying "It's true – we are closing some stores. It was a difficult but necessary decision. We still have hundreds of locations across the country, and our website rue21.com, open for business." It remains to be seen if they will actually file for bankruptcy protections.
In 2002, rue21 filed for Chapter 11 under its former name, Pennsylvania Fashions, Inc., and its recent financial trouble has come from a nearly $1 billion debt load the company is unable to pay back in a timely manner. The company operates nearly 1,200 stores and has not yet released which ones they will be closing. This announcement comes on the heels of nine other bankruptcies by retailers, ranging from Gander Mountain to The Limited, which is equal to the entire amount of bankruptcies for last year.
Rue21 is a staple of many malls, institutions that have also been documented as declining for the last few years. Mall traffic sharply declined in 2016, and experts have predicted it will continue to do so this year. This decline has hurt anchor stores like Sears, Macy's and Kohl's, two of which are closinghundreds of stores in an effort to cut costs. Other retailers, like RadioShack and JCPenney, have announced store closures, the former planning to close 500 stores this year and the latter closing 138. JCPenney has recently delayed its store closures due to a surge in sales from nostalgic customers.
No indication of their struggles is made on their website, where spring sales continue as normal. When the store closing list is released, we will update this article to include it so you can see if your local store is on it.
Is your local store closing? Looking for alternatives to rue21? Try other fast-fashion stores like Forever 21 and Charlotte Russe for your summer wardrobe fix