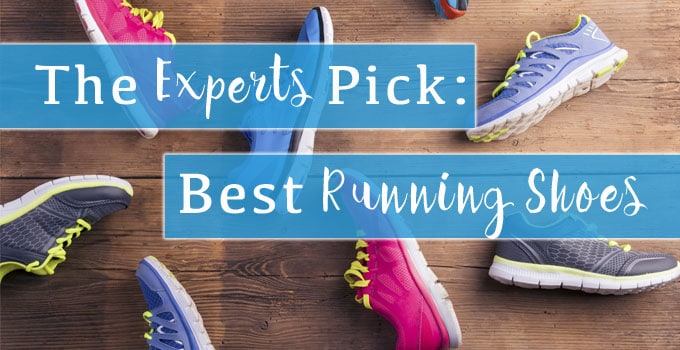 The Experts Pick the Best Running Shoes of All Time
by couponlab
Finding the best pair of running shoes for your feet in a store's endless wall of treads can be difficult, to say the least. The type of running you're doing, the length of your runs and the shape of your feet are all important considerations to make in this oftentimes pricey purchase.
To help narrow down the endless selection of brightly-colored running shoes, we reached out to some experienced runners. From Ironman finishers to marathoners, we've got thousands of miles of experience here. Your feet pipe up pretty quickly if they're not happy with your shoe choice, but the experts agree on one thing: don't walk out of the shoe store without taking your pair for a test run (50-miler not necessary.)
Heidi Boynton, Executive Director/Co-Founder of Mini Mermaid Running Club, has been running since the early 90s, but she had a hard time finding her perfect shoes.
"I struggled to find shoes that helped me find my happy pace. It wasn't until I had forgotten my trail shoes that I wandered into an outdoors store and found my favorite shoe of all time — it was the bright colors of the La Sportiva Bushido that caught my eye."
With a very narrow, flat foot and tired ankles that have rolled more than they should on the trails, stability is a requirement for Boynton. When she finally put on the shoe, it was "love at first lace." A stiff bottom to hold her arch and a super sticky tread to keep her feet steady on the trails help her feel supported.
"I can get at least 300 miles on them before they start to break down, and I wear them on the road and on the trail so I don't need two pairs of shoes for different terrain," she said. Even better, these shoes are water resistant, so rain, sleet, mud, snow and even creeks don't impact her feet.
Boynton has competed in more than 25 triathlons, multiple marathons and ultimately completed Ironman distance triathlons. In October 2015, she was named a Toyota Everyday Hero at the annual espnW Women + Sports Summit for her work in promoting and growing sports for girls and young women in her community.
BETH WEINSTEIN'S PREFERRED SHOE: SAUCONY KINVARA
Weinstein has been all over the map when it comes to testing out shoe types. Starting with a neutral shoe, she worked her way to a more minimal neutral shoe to a maximal shoe, and now has circled back to minimal shoes.
After getting injured and having some troubles adjusting to such a different shoe type, she's sticking with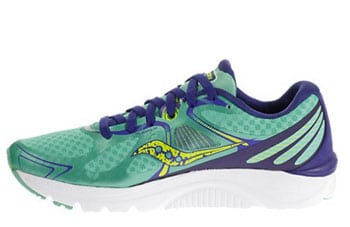 the Saucony Kinvaras. But, she notes, she does have different shoes for cross-training, road racing, general running and trail running. She rotates them around depending on what she's doing.
"The only thing I sometimes consider in an ultramarathon is what kind of terrain it will be," Weinstein said. "I might want a shoe with a rock plate for a rocky course. But if it's running in the desert on rock-free dirt, it doesn't matter." She likes to feel the ground when she runs, especially during trail races, and prefers a shoe a little closer to the terrain.
Weinstein also knows when you actually need to purchase a new pair. "Some shoes I love and get attached to and I will wear until there are holes in them," Weinstein said. "I currently go to the gym in 6 year-old shoes, and they're still comfy and perfectly fine for indoor use."
Beth Weinstein, an endurance runner (19 marathons, 10 ultramarathons and many trail races) is the founder of NYC-made running brand, OnlyAtoms.
DAVID RICHMAN'S PREFERRED SHOES: ASICS GEL-KAYANO SERIES 
David Richman has come to rely on Asics for his feet. "After trying several shoes and models, my all-time favorites are the Asics Gel-Kayano series for my road running, and the Asics GT-2000 Trail series for off-road running."
His style of running is to over-pronate a bit (his feet roll inward when striking the ground), he runs long distances, and weighs in at 190 pounds. So he needs a shoe that can handle a pretty heavy load. "I feel that both give me a secure fit, are light but durable, and leave me feeling comfortable no matter how long the run or how hard the effort."
Richman rotates between two and three pairs of the same shoe so that his "average" running experience is less extreme. In other words, he doesn't buy a new pair, run them into the ground and repeat. Instead, he wants a shoe that is broken in, but not overused. "I usually buy a new pair to put into the rotation each year, and retire each pair between about 600 and 750 miles."
David is a marathoner, cross country cyclist, and author of "Winning in the Middle of the Pack." After losing his sister to brain cancer, David has organized a yearly fundraiser and in September will embark on the first solo cross-country ride for Cycle of Lives, a foundation he established to raise funds for cancer research.
TIPS ON PICKING THE BEST RUNNING SHOE FOR YOU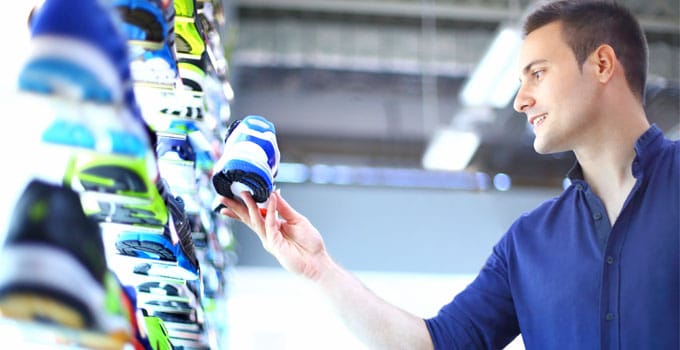 When trying on a pair of new running shoes, it's important to go by feel, comfort, intuition and your own personal history. Only you know what's best for your body, your gait, and your running goals. (Deciding what works best for you does take trial and error.) Some shoe brands last longer than others, depending on the material used, quality, sole, and cushioning. The mileage you'll get out of a pair of shoes is also dependent on your weight, body, mileage, wear patterns and terrain you run on.
Try to buy from a store that is set up to ensure your runner's high, such as a treadmill available in-store to test shoes or a return policy that allows for a return or exchange even after running outside. Weinstein learned this lesson the hard way after plunking down more than $130 for a pair from a store that didn't care she hated their shoes after two 45-minute runs.
"There's no one formula for shoes," Weinstein points out. "If there were, there'd be a fraction of shoes and shoe brands available on the market."
So the experts have spoken on their favorite running shoes, but they all agree that it takes miles, and sometimes injuries, to find your perfect pair. Every foot is different, so don't just take their word for it.