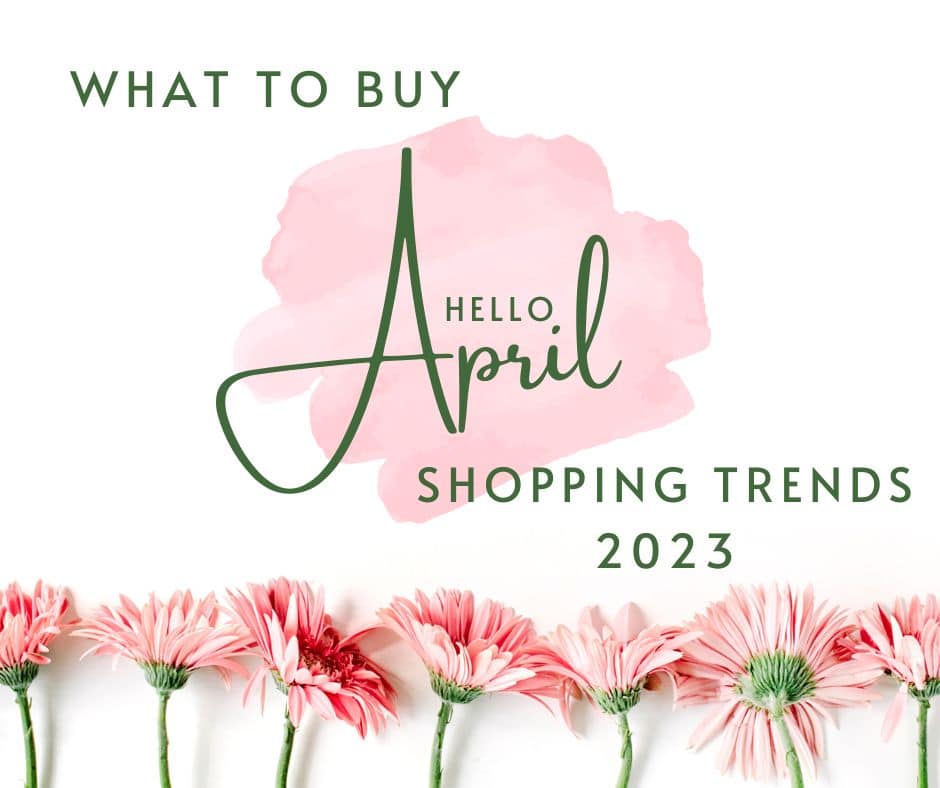 What to Buy in APRIL: Shopping Trends 2023
by couponlab
The fourth month of the year offers consumers various seasonal shopping events that cover just about every category. Shoppers are in the mood and mode to refresh, rejuvenate, organize, and spend for ourselves, the kids, and Mom! The spring thaw motivates us to fix and clean what winter has dirtied up.
Boomers make up half the total CPG sales and are real power shoppers each spring. They have capital and traditionally spend to maintain and upgrade things in their homes. They'll thrive on seasonal discounts on tools and building materials from Home Depot, Lowe's, and Menards.
April also trends for early spring fashion, earthy goodness, and techie deals for Mother's Day gifts. A new Couponlab.com survey reveals that 48% of American adults will likely buy a new smartphone this year and 25% a new tablet. With the new iPhone 13 and Galaxy S23 due soon and Walmart, Best Buy, Amazon, Target, and other major brands offering significant trade-in programs on various tech products, April may be the best time to upgrade and save. And come May 11, moms will be texting, Facebooking, and smiling more often.
Here's an overview of all the main products that trend as maximum savings in April.
Spring Sales Blossom For Your Closet, Home, and Garden:
:  In early April, consumers look to buy and save on fashionable spring apparel and shoes (looking for clearance? …wait until May). It's the best time to find the new styles in the color and size preferred at a reasonable price before the demand/urgency is higher, especially during Easter weekend. Home & Garden deals will be dug up at hundreds of stores featuring big weekend sales for spring plants, fertilizer, and spring cleaning tools (vacuum cleaners). Cleaning supplies will be elevated as consumers get the fever to get out and be active/productive again.
Kitchenware, or cookware, can also be found at reasonable prices as shoppers restock and prepare for seasonal wedding gift ideas. Also, clearance on winter tools (shovels, snowblowers, plow equipment, etc.) will be a great buy, promoted heavily to make room for patio furniture, lawnmowers, garden tools, and grills.
Tax Day Deals and Freebies:
Up to the April 15 deadline, most software, whether at home or online, can be found for 50% off and sometimes free (with filing charges). For a wealth of insider tax tips, visit the Couponlab Tax Season Tips Roundup or our heady Finance forum, where intelligent people share tactics on deductions and software and review options for personal and small business filing situations. BONUS: Tax time = no better time to buy Office Supplies–stock up on school supply basics while you're shopping, too! DOUBLE BONUS: Tax Day= Freebies on food and beverages on April 15!
Easter Sales Collide With Going Green:
With Easter on April 20 followed by Earth Day on April 22, that chocolate bunny might have a better chance of being organic! Kidding aside, both events will be embraced by retailers and present opportunities for shoppers to save money. Look for 20-30% discounts on Easter supplies and spring fashion the week before Easter celebrations. Earth Day will bring timely deals on various natural and organic items, and it is a great time to save on green home cleaning products and all-natural spring health & beauty products.
Summer Travel Deals Heat Up After Easter:
With Spring Break now behind us, families start to think about booking summer travel, and travel sites start to bring early-bird discounts and specials to fill their planes, trains, and automobiles' vacancies (add hotels, vacation rentals, and amusement). The best way to save may be planning and taking advantage of early packages, saving money and time with one booking event. If you're not quite ready to book summer vacation, it's still a good idea to start watching pricing now, especially for Luggage deals at 30-50% off with clearance add-on savings and Cash Back.
Mother's Day Deal Creep Can Be "Pretty" To Your Pocketbook:
A flood of sales centered around a wide variety of items for women kick in later this month. Everything from >jewelry to kitchenware to arts and crafts, fabrics to fashion accessories will flirt with deep discounts from almost every store. So savings are plentiful and hard to navigate, but finding the lowest price is not rocket science…
The best and most consistent way to save money on a gift for any mother is by shopping through Couponlab's annual Mother's Day Cash Back Sale, where dozens of stores offering discounts on the products above will increase cash back, making these deals the best you'll find anywhere. With smartphones and tablet prices continuing to drop, we suspect there will be a stronger focus on tech sales, too, as moms desire the conveniences of being more connected, mobile le, and saving time for themselves and their kids.