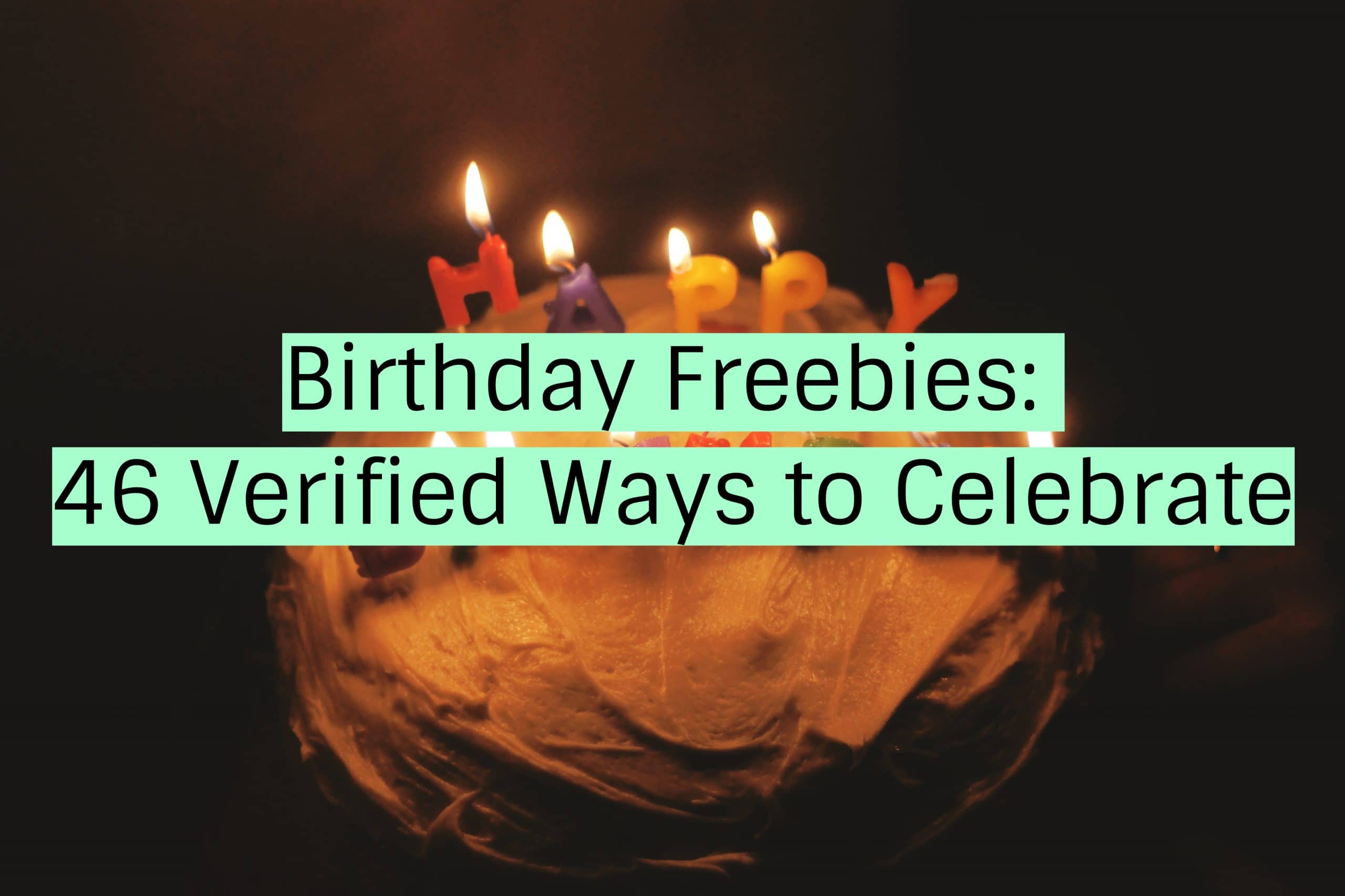 Birthday Freebies: 46 Verified Ways to Celebrate
by couponlab
It's one of the first celebrations to take root in one's memory, and has the incredible good fortune of occurring once every twelve months. Birthdays are a natural source of joy for almost anyone with, well… a birthday! While another trip around the sun is certainly a great reason to celebrate, the date is often remembered most fondly by the gestures of love shown by friends and family.
Luckily, American companies think birthdays are worthy of celebrating, too! Many have launched birthday freebie clubs to celebrate their super fans and foster relationships with casual or curious shoppers.
Birthday freebies are a no-brainer for almost any company offering a good or service. With the rise in popularity of email newsletters and marketing mailing lists, records are easy to capture, distribute to, and track for any digital department.
More than that, they're incredibly useful for the savvy deal shark. In addition to birthday freebies and the steady flow of savings delivered via email, companies usually offer a worthwhile freebie just for signing up!
Best Birthday Discounts
Most of the offers listed here require customers to sign up for one of these email marketing newsletters. Some shoppers choose to create a new email account for these kinds of subscriptions, separate from personal or business communications.
The digital nature of most birthday offers also allows for timely delivery and painless activation. Coupons usually arrive well before a member's actual birth date, and include a window of validity. Today, shoppers can sometimes display a coupon code on their smartphone to be scanned by a cashier, avoiding the need to print anything at home.
Signing up for newsletters almost never comes with a cost, but some deals will require a nominal purchase in order for a birthday discount or freebie to be applied to the bill. Details about activation and limitations are linked to in each listing.
COFFEE and BREAKFAST
Black Bear Diner – Who doesn't love a free breakfast? Members of the Bear Lovers E-Club receive a complimentary meal on their birthday.
Bob Evans – French toast is the perfect start to any birthday. Join the Bob Evans Birthday Club and kids up to 12 enjoy a free birthday meal with the purchase of a regular adult entrée.
Bruegger's Bagels – Join Bruegger's eClub and celebrate birthdays with a free bagel and cream cheese. Birthday candles not included.
Denny's – Denny's knocks birthdays out of the park! Guests celebrating a birthday enjoy a free original grand slam. While not explicitly stated online, guests may need to join Denny's Rewards to qualify.
Einstein Brothers – Bagel lovers that sign up for The Shmear Society get a free egg sandwich with purchase on their birthday.
IHOP – Join the revolution! Enjoy a stack of birthday pancakes by joining IHOP's Pancake Revolution.
Krispy Kreme – Krispy Kreme makes doughnut lovers do a two-step for a free birthday donut and coffee, requiring both membership in their Krispy Kreme Rewards program and that users download their app, Hot Light.
Starbucks – This coffee giant runs a smooth birthday program through Starbucks Rewards. Two days before every birthday, bonus rewards points are added to coinciding member accounts. Points can be used for in-store purchases via the Starbucks app.
DESSERT
Barnes & Noble – Enjoy various birthday rewards and discounts with membership in B&N Kids' Club, and, most importantly, get a free cupcake from Barnes & Noble café for all children's birthdays.
Baskin-Robbins – Can't go wrong with free ice cream. Kids and parents that join the Baskin-Robbins Birthday Club receive coupons for a free scoop and $3.00 off an ice cream cake for their birthday.
Cold Stone Creamery – Members of the My Cold Stone Club receive a BOGO creation coupon via email for their birthday. This has to be how their best flavor, Birthday Cake Remix, came to be, right?
Dairy Queen – Receive a birthday BOGO Blizzard coupon by joining the Dairy Queen Blizzard Club. There's no age limit, so parents can sign up, too!
Friendly's – Sign up for The BFF Club and enjoy free birthday sundaes and cake discounts for parents and children.
Great American Cookies – Join the Cookie Club and receive a free cookie cake slice with purchase of a soda.
LUNCH and DINNER
Chili's – Celebrate at a family dining staple. Diners that join My Chili's Rewards enjoy free dessert on their birthday.
Firehouse Subs – Patrons that sign up for Firehouse Rewards receive a free medium sub coupon for use on their birthday or within the following 6 days.
Hooters – Join the Hoot Club and get a birthday coupon for ten free boneless wings.
Jersey Mike's Subs – Patrons enjoy a free sub and drink on their birthday when they sign up for the Jersey Mike's Subs Email Club.
Johnny Rockets – Diners that join the Rocket eClub enjoy a free hamburger on their birthday.
Moe's Southwest Grill – Moe's free birthday burrito requires both membership in their rewards program, Rockin' Rewards, and that users download their app.
Old Spaghetti Factory – Get special offers and access to exclusive content in addition to a free meal for birthdays and half-birthdays with membership in the Old Spaghetti Factory Birthday Club.
Olive Garden – Customers that join the Olive Garden Rewards Program receive free dessert on their birthday.
Panera Bread – Panera makes note on their website that they offer a special birthday reward with membership in MyPanera. This reward is very likely to be tasty.
Papa John's – Members of Papa Rewards get 10 bonus birthday points deposited in their rewards account to use on any order. Bonus points expire on the last day of the guest's birthday month if unused.
Ponderosa Steakhouse – Members of their eClub receive a free steak dinner from Ponderosa Steakhouse for their birthday.
Smashburger – In the battle of baked potato vs chocolate mousse, who will win? Members of the Smashclub enjoy a free side or shake with their birthday dinner.
Smokey Bones – Save room for cake! Members of The Bones Club enjoy free dessert on their birthday.
Steak 'n Shake – This old-school burger joint will treat members of their eClub to a "little something extra" for their birthday. Part of the club questionnaire asks about favorite menu items, which might be a good hint about the mystery gift.
Weinerschnitzel – Patrons that join the Wiener Lovers' Club receive a free coupon each year on their birthday. Chances are, the coupon is good for a hot dog related item.
Wing Stop – Wing Stop asks diners to join their vaguely named rewards program, The Club, to receive a free gift on their birthday. Is there a dress code?
SNACKS
Auntie Anne's – Patrons that join Auntie Anne's Pretzel Perks Program are treated to a free signature/classic pretzel on their birthday.
Jamba Juice – Folks celebrating their birthday can keep it healthy with a free Jamba Juice or smoothie. Join Jamba Insider Rewards to qualify.
Pinkberry – Pinkcard holders enjoy a free yogurt on their birthday in addition to being able to say they own something called a Pinkcard.
Planet Smoothie – Planet Smoothie fans that sign up for their Official Birthday Club celebrate each birthday with a free smoothie.
Smoothie King – Members of Smoothie King Healthy Rewards enjoy a $2 off coupon for their birthday. With all the smoothies on this list, good luck avoiding an ice headache!
RETAIL
American Eagle – Members of AEO Rewards receive a special birthday coupon via email.
Aveda – This luxury beauty line does birthday freebies right, offering a gift worth $23 in addition to a certificate for double points on Pure Privilege Rewards members' next Aveda product purchase.
Children's Place – Receive a 20% off coupon during the month of a child's birthday with membership in My Place Rewards. Register up to 4 children to maximize savings.
CVS – Extracare Beauty Club members celebrate birthdays with $3 ExtraBucks rewards, in addition to $5 ExtraBucks rewards for every $50 spent on beauty for their birthday.
Hot Topic – Hot Topic, in only a way they could, states that reward members "may" receive a special offer each year for their birthday. Teens are so noncommittal.
JCPenney Portraits – Old school portraits are back in style! Enjoy exclusive birthday savings during the month prior to a child's birthday by joining JC Penney Portraits Birthday Club.
Old Navy – Sign up for Old Navy Emails and receive a coupon for a birthday gift each year.
Toys R Us – Join Geoffrey's Birthday Club and kids up to 10 receive a card, phone call (opt-in), and small gift on their birthday. Bring the birthday boy or girl into a local store for a birthday crown and fun in-store announcement!
Ulta Beauty – This makeup and beauty standard offers double rewards points on all purchases during the birth month of Ultimate Rewards members in addition to a free mystery gift that changes quarterly.
ENTERTAINMENT
AMC Movies – Movie goers can sign up to AMC Stubs to have a free birthday gift loaded onto their account each year. The birthday boy or girl must have their Stubs card or account number present to use gift.
Chuck E. Cheese's – Parents can sign up to be members of the Chuck E-Club to unlock a birthday gift for their child. While not stated online, the gift is likely tickets, tokens, or a combination of the two, and may require a small food purchase.