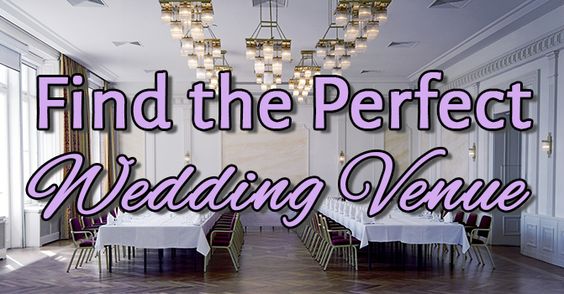 How to Take the Stress Out of Finding Your Wedding Venue
by couponlab
So you've decided to plan your wedding yourself and you've got your budget all laid out, right? The first thing you'll want to do now is pick a venue (or two) for your wedding and reception. It's one of the most expensive things, on average, you'll be spending on, and you want to save as much money as possible, otherwise you wouldn't be here. We'll show you how to find the venue that's best for your wedding, without gouging your budget.
WEDDING VENUE BASICS
First things first, get your guest list in order. You can't start looking at venues until you know how many people you want to invite, as that'll influence the size and type of venues you'll be able to consider. Smaller guest lists save money, so if you can, trim it down as much as possible. I realize this is difficult for people who have a lot of family and don't want to hurt anyone's feelings, but it's the brutal truth for any budget wedding. Also, even though it's a general rule for weddings that about 25% of the guest list won't RSVP or show up, plan for the full number of guests just in case you're an outlier. When I got married, we planned for 100 people and ended up with exactly 75 at our wedding. Unless you're sending the invites a year in advance (don't do this), you won't know the real numbers until after you've booked the venue, the caterer and the rentals, so, again, plan for the full list.
The date is the other important piece of the wedding puzzle you'll need before you can start. If you want a winter wedding, chances are an outdoor venue is out of the question. If your date is on-season, you'll have to get looking for venues immediately, as the bookings fill up fast. If it's off-season, you'll need to make sure the venues you're looking at even run weddings during those months. The venue is absolutely the thing you want to take care of before all else, as most venues' bookings fill up fast.
Be mindful of your budget when you're starting this journey. Danielle Rothweiler of Rothweiler Event Design says, "When choosing a venue, it's important to already have your budget established. Do not spend more than 49% of your entire budget at your venue, and that includes food and catering." If you haven't figured out your budget yet, check out our budget planning article for our tips.
VENUE-HUNTING TIPS
Choosing a venue can seem super daunting with all the options available. If you know your wedding style, you'll have an easier time narrowing it down to a few ideas. Start with Google or hit up a free or cheap wedding show in your area to learn about area venues and speak to their representatives. Heidi Hiller of Innovative Party Planners has a handy list of questions to ask when you're speaking to reps and touring venues:
Does the venue provide the catering or will you need to hire another vendor for the catering?
Does the venue have a time restriction on the number of hours you can rent it prior to your event?
Does the venue have tables and chairs and linens? Do you like the chairs? What are the linen choices? Will you need to consider rental costs of other chairs, other shape tables, linens?
Where will your guests park? Will you need to add a valet or shuttle service?
Are their nearby hotels for your guests to stay at?
Are you near major transportation for your out-of-town guests?
Is the space handicap accessible in case you have any guests in wheelchairs or walkers?
Is the dance floor included or will you need to rent it?
Are there places for pre-event photos?
Are there areas for the bridal party to get ready?
When you're touring, have them demonstrate the acoustics so you know if your music will sound okay or not. If it's outdoors, you'll have to consider a speaker setup that directs sound toward your guests and not just out into the wilderness. Another smart, sometimes overlooked tip from Sarah Sebastian, owner of Rose Gold Collective, is to "always test your cell phone and WiFi when you're in the space. It will cause headaches later on if the space doesn't have WiFi or cell service."
Other things to consider while touring, according to Joyce Scardina Becker, wedding designer and planner with Events of Distinction, are "vision," "flow," and "size." Make sure to keep your vision in your head as you view venues, and, says Becker, "Please keep in mind that a site may not look exactly like the photos you saw on the web. If you're visiting an outdoor site during the off season, remember that the bare bushes you're noticing now may be in full bloom by your wedding day."
When considering your ceremony and reception, Becker advises "to have an effortless transition with elements of surprise each step of the way as you move from your ceremony (if it's at the same site as your reception), to your cocktail hour, to your meal to dancing." Create a path in your head, then walk it in-person to see if it does flow as well as it did in your mind.
Finally, Becker's third point to consider: size. She recommends comparing "the square footage of their facilities with your space requirements," and, if you're not spatially-minded, she's provided some measurement recommendations (along with the advice to bring your own tape measure) when considering your guest-to-square-footage ratios:
Ceremony area – 10 square feet per person
Cocktail reception – 8 to 10 square feet per person
Dining and dancing together (i.e. a dinner dance) – 15 to 20 square feet per person
Dining only – 10 square feet per person
Dance floor and band (if separate area from dining) – 5 to 8 square feet per person
Thinking locally is the way to go to save on travel costs and rental transport costs. If you have people coming from out of town, make sure there are accommodations available. However, it might be best to narrow down your guest list to people who don't require accommodations unless your family is willing to house guests for the wedding. It might seem stingy, but you're trying to save money, right?
CONVENTIONAL VENUES VS. UNCONVENTIONAL VENUES
You're prepared and confident to start your search for the perfect venue; now you just need to consider where you want to look. Hopefully, you've taken our advice and planned an off-season wedding, but if you've cursed yourself with a June-September date, we can still help you. If you're planning an on-season wedding, you'll have to think unconventionally if you want to save money.
CONVENTIONAL
CHURCH OR COURTHOUSE
While a church might let you decorate, the courthouse probably won't, so you'll need to take those spaces' requirements into account when booking. You'll also want to consider a separate reception venue, but Andi Compton, wedding and event Coordinator at Now That's a Party Events, says, "If you're getting married at a church, ask if they rent their church hall for wedding receptions. Not every church has an amazing hall, but the ones I've coordinated in a simple parish hall have had just as much joy as weddings in a fancy hotel ballroom." With this advice, you and your guests won't have to travel between two places, and you won't have to break down two sets of decorations. The courthouse marriage creates the issue of needing a reception space, so consider some of our unconventional choices in the next section for this.
HOTEL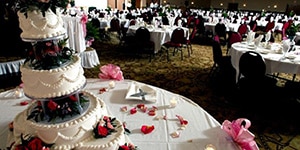 You can hold the ceremony and the reception all in one place, and because this is such a common option, most hotels have hosting weddings down to a science. This is one of the least stressful options, since hotels often have their own event coordinators who lay out all your options, from the rooms available down to napkin colors.
It is not, however, one of the cheapest options in many cases, as hotels mark up drinks and generally require a certain amount of rentals. If you're considering multiple venues, which you should if you want to save money, Greg Jenkins of Bravo Productions says, "Do some research and compare whether the venue's 'wedding package' will actually save you money. Many venues hire a florist to create the centerpieces and then mark up the price when offering them to you. It might be well worthwhile to hire your own florist. In addition, some deals sound to good to be true, and most of the time you end up spending more money in the long run." It's also one of the most limiting options in terms of customization, since you're at the mercy of the hotel's rental selection and caterer list. If you don't mind keeping things simple, hotels are a great traditional way to go.
Make sure you're working with a specific event coordinator and that you get their card; having a single point of contact will make things less stressful than getting pushed around a call tree until some random representative helps you.
BANQUET OR EVENT HALL
You can find these throughout most cities' urban sprawl, generally near strip malls or the suburbs. These are a bit of a toss-up when it comes to customization and vendor requirements, so do your research and compare several of these before you decide. The easiest way to save money on these locations is to find places that let you hire in vendors of your choice. Brandi Hamerstone, owner of All Events Planned, says "Finding a venue that allows you to bring in your own alcohol and then hiring bartending staff is another way to save money. The upcharge on liquor/wine/beer is huge, so you could save quite a bit of money depending on your guest count."
Sometimes these locations aren't available for weddings and only for receptions, so make sure you ask before you assume you can host both in the same place. These places are also popular for other events, so even if you're planning an off-season wedding, book early to avoid getting shut out by office holiday parties or mitzvahs.
UNCONVENTIONAL
This is where things get fun and extra creative. Here are a few options for those of you thinking outside the box. Remember, think locally to save money!
PUBLIC PARKS
These require a bit of planning and applying for a permit, but the most expensive those get is about $250. You'll need to take into account space allowances and other public safety requirements, plus a sound system, if that's something you need. If you're going for a small wedding and plan to take the reception elsewhere afterward, a public park is a great option. You will have to deal with strangers, though, as the park remains public even if you have a permit to use it for your wedding. Brides has a great article on planning a park wedding for anyone thinking about this option.
Just remember, if you plan to host the whole thing here, most parks don't have kitchens or plentiful bathrooms available to guests. You may have to rent a portable toilet and pay extra for the caterer's mobile cooking station (which some caterers don't offer at all). Consider these costs when you look at public parks and weigh if it's worth the extra expense.
THE BACKYARD
If you have a family member with a great backyard or have one yourself, this is a great, cheap option. You'll want something that can support the amount of guests you have, and you'll have to make sure there are no local ordinances against large gatherings or noise that will hinder your party time. If you took my advice and kept your guest list small, you should have no problems hosting in someone's backyard, but if you've got a relative or friend with a country property and field-sized yard, that's even better.
A PUB CRAWL
One of the most fun weddings I went to was a courthouse wedding, after which we ate at a fancy restaurant, then went barhopping. This is a great activity for a smaller group, especially if you kept your wedding party small, and can provide some great memories. I recommend hiring your photographer for a few more hours for this (and definitely pay for their drinks), since you might not remember everything in the morning. This option also saves you money on rentals, since you won't really need any (unless you're renting Segways to get around or something, which you probably shouldn't while intoxicated).
OUTDOOR WEDDINGS
Outdoor weddings sound lovely, but always have a plan for bad weather. Consider places with gazebos, places that allow tents, venues with indoor and outdoor options that allow moving between the two, as well as offering guests umbrellas or parasols (if the sun is high and hot) to combat Mother Nature. Alison Laesser-Keck of VLD Events advises, "Also, if you're tenting, look for a venue that allows adding on days for set up and tear down. This can be a several thousand dollar charge, so you want to be sure to know there's flexibility up front." If you're renting your tents, you will probably need at least a day or two in advance to allow for setup, but if you're like me and have a handy family with portable tent frames and coverings, you might only need a few hours before and after to set up and take them down. Organize your options beforehand so you'll know how much you'll need to spend.
The best thing about outdoor weddings is you can often skimp on the decor because the scenery provides it, which will save you a lot of money and time, especially if you're DIYing. Focus instead on the reception decor, which is where guests will be spending the most time, anyway. Consider issues with insects; you might need citronella torches or candles, or bug nets, if you're somewhere the 'skeeters are bothersome.
BE CONFIDENT!
The best tip we can give you is to stay confident when asking questions of venue representatives and keep your vision in mind. You know what you want. You know what you're willing to compromise on and what you absolutely require for your big day. If a venue rep can't answer your questions right away, let them get back to you, and if they don't, don't waste your time with them. Be ruthless in your comparisons of venues, especially when it comes down to cost. Don't be afraid to barter, since you're probably not the first person to ask tough questions.
There is a perfect venue out there for you, and don't think you have to settle to save money. You can build a beautiful wedding, even on a tight budget. Good luck venue hunting!